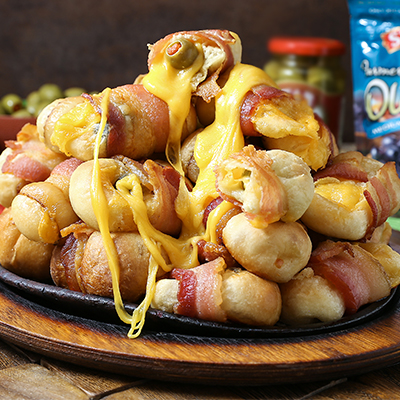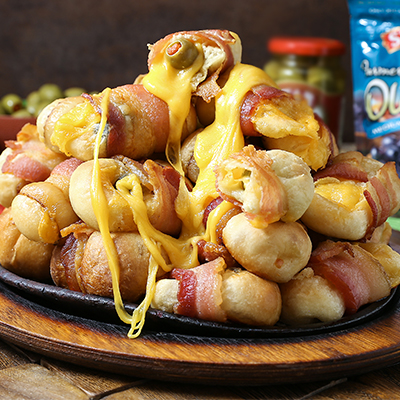 Ingredients
12 frozen white dinner rolls (the uncooked ones in the freezer section)
2 pounds Colby-Jack cheese, shredded
STAR Medium Pitted Ripe Olives (2.5 oz. pouch)
12 slices bacon (regular cut), cut in half
Instructions
Preheat oven to 350°F and prepare 2 baking sheets with aluminum foil or parchment (cheese may escape the poppers, so to make clean up easy make sure you cover your pans). Place 12 frozen rolls on a microwave safe plate and microwave on 'defrost' for about 2 minutes (or until dough is no longer frozen, but not cooked). Cut dinner rolls in half with kitchen shears.
Lightly flour a cutting board or counter top and set cut rolls on board.
Toss 1 piece of dough in flour and flatten and stretch like you are making a mini pizza. Stretch dough to about 3" across. Add about 1 – 1 1/2 Tbsp. cheese and press it into the dough (just so it will stay, don't push it through the dough). Add 1-2 olives (depending on size) and pull the edges of the dough together to create a ball. To help dough seal, tap your finger tips into the flour and crimp the seal together.
Place crimped side of dough face down on a bacon slice and wrap the bacon around the dough (ending at the top). Slide a toothpick through both ends of the bacon and into the olive inside to secure. Repeat entire process until all poppers are bacon wrapped and on the first tray (about 12 on a tray).
Bake for 25-30 minutes until dough is browned and bacon is cooked. Prepare second tray while the first tray is baking. Bake the 2nd tray 25-30 minutes. (You can also bake them both at the same time and rotate the trays half way through.)