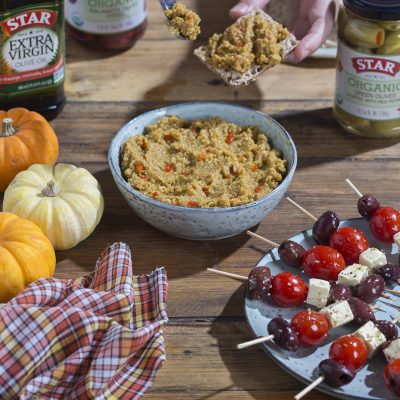 Before digging into the turkey, what could be better to get the ball rolling than a series of delicious and healthy appetizers that will remind us why we love Thanksgiving. Bon appetit!
Olive Tapenade: blend some green olives with a splash of extra-virgin olive oil, a teaspoon of vinegar and your favorite herbs. Now you've got a delicious olive tapenade that you can spread on toast to make canapés!  
Olive, Tomato and Feta Skewers : on a skewer, alternate an olive, a cherry tomato, a cube of feta cheese, and so on. Dress before serving with a splash of extra-virgin olive oil and a little salt.  
Olive and Orange Salad: sliced black olives, orange wedges, a few mint leaves, and some peeled peanuts. Mix it all in a bowl and dress with a splash of orange juice. There is no tastier salad!  
Fried olives : dip the olives in egg, then dredge in breadcrumbs and fry in plenty of extra-virgin olive oil. What a treat!