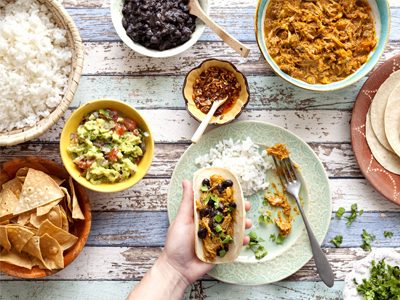 We're big fans of Mexico and we love Mexican dinner parties, so how about throwing one of our own? Here's how: design a red, white and green color scheme (keep it classy rather than tacky), put together a Ricardo Arjona playlist and draw up a simple but impressive menu (don't forget tacos and guacamole). Órale!
The idea is to organize a taquiza, a buffet with ingredients for everyone to make their own taco. Put out corn and flour tortillas (make sure you keep them warm, or don't put them out all at once so they won't get cold), along with different fillings. This should create an enticing atmosphere around the table that will spark conversation and encourage guests to interact. Some cold beers and margaritas should do the rest.
Rice, beans, chips and guacamole!
In addition to meat, Mexican cuisine also includes other tasty dishes featuring rice, black beans, crunchy chips and, of course, a good guacamole. Check out our recipe posted earlier this week on how to make a delicious homemade guacamole.