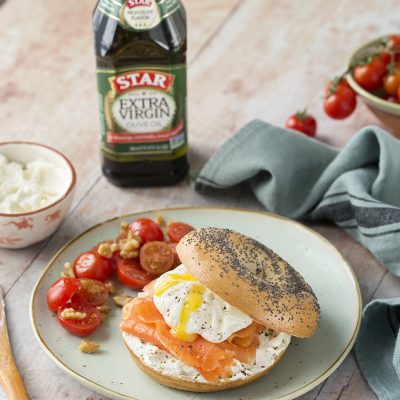 Are you having a blah day and don't feel like cooking, but you have a hankering for something healthy and tasty? Take note of these three recipes: they won't disappoint! 
A Scrumptious Bagel
A toasted bagel with a good drizzle of extra-virgin olive oil, smoked salmon, cream cheese, a pinch of fresh oregano and a gorgeous poached egg on top. Serve with some sliced cherry tomatoes and a handful of mixed nuts, and happiness will be within reach. Bon appétit!
Two-Minute Sauce
In the mood for a savory sauce to liven up the meat, fish or salad you've just made but which now seems a little bland? Whip up some homemade mayonnaise in two minutes using light olive oil! It will add a spark to any dish without overpowering the flavor.
Three Cheers for the Microwave!
Feeling super lazy but craving something sweet? We've got the answer with this heart-stopping combination. Grab a mug, add four tablespoons of flour, two of sugar, three of cocoa powder, three of agreena, crack in an egg and mix. Three minutes in the microwave at 800 w and your mugcake snack is ready!