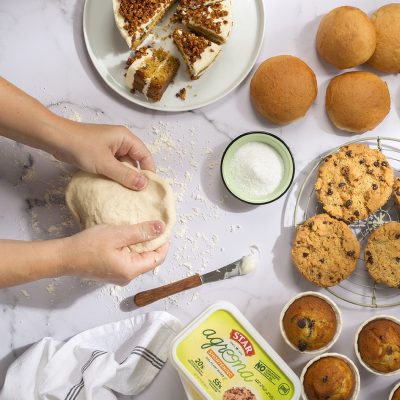 Agreena! Have you heard of it? Let's talk about some of its advantages: 
Easy to use: it is a compact, textured oil that is easy to handle, making it an ingredient that blends well when kneading.


Versatile: this textured oil made from sunflower oil is perfect for both sweet and savory recipes, pastries, leavened doughs, etc. Whatever the purpose of your recipe, you can rely on Agreena Bakery, even for choux pastry – the only difference is the taste. Plus, it's also ideal as an ingredient for things that used to require saturated solid fats, like puff pastries, candies or cookies.


Flavor: it is an ideal ingredient for making your recipes healthier without sacrificing flavor, since the taste is relatively neutral.


Suited to anyone: Agreena is a textured oil that is gluten-free, lactose-free, vegan, and with a high content of high-oleic sunflower oil: a perfect ingredient for anyone who suffers from food intolerances or allergies. 


Healthy: it is the ideal ingredient for healthier recipes, since it cuts down on the percentage of unhealthy saturated fats in the kitchen. Agreena has up to 58% less saturated fat than butter and 20% less than other shortenings on the market. In addition, the product is rich in oleic acid and vitamin E, both of which are good for our bodies.

Texture: Agreena adds volume and air to preparations. It makes it easier to achieve a fluffy and consistent end product. 


Sustainable: the Agreena product line is the product of sustainable agriculture and contributes to the conservation of biodiversity.