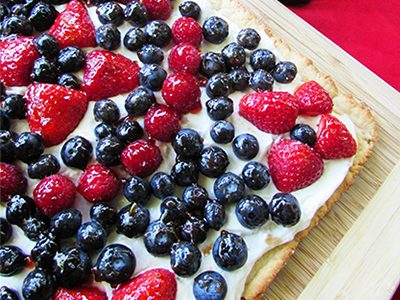 This fruit tart is a wonderfully delicious dessert. You can use any fresh fruit that you love! In this version we used red and blue fruits to make it a patriotic Veteran's Day treat. It's the perfect thing to share with any veteran that you know!
Did you know that Veterans Day originated as "Armistice Day" on Nov. 11, 1919, the first anniversary of the end of World War I? Congress passed a resolution in 1926 for an annual observance, and Nov. 11 became a national holiday beginning in 1938. Veterans Day pays tribute to all American veterans–living or dead–but especially gives thanks to living veterans who served their country honorably during war or peacetime.
The brave men and women who serve and protect the U.S. come from all walks of life; they are parents, children and grandparents. They are friends, neighbors and coworkers, and an important part of our communities. Today we all get a chance to show them exactly how much we appreciate them.
Ingredients
Crust
2 cups flour 1 1/2 tablespoons baking powder
1/2 teaspoon salt
1/3 cup sugar
1/3 cup STAR Extra Light Olive Oil
1 egg
Topping
1 package (8 oz) cream cheese, softened
1/3 cup sugar
1 tsp vanilla
3/4 cup whipping cream
4 cups assorted fresh fruits (such as strawberry halves, blueberries, raspberries, blackberries)
1/2 cup strawberry jelly, melted
Directions

Heat oven to 375°F. Spray cookie sheet with cooking spray; dust with flour. In medium bowl, with an electric mixer on low speed, mix all the crust ingredients until a soft dough forms. Pat dough into 12×10-inch rectangle on cookie sheet; pinch edges of rectangle.
Bake 10 to 12 minutes or until edges just begin to brown. Cool crust on cookie sheet on wire rack 2 minutes. Remove crust with spatula onto cooling rack. Cool completely, about 30 minutes.
In small bowl, beat cream cheese, 1/3 cup sugar and the vanilla with electric mixer on low speed until smooth. Beat in whipping cream on medium speed until stiff peaks form.
Place crust on platter or a cutting board. Spread cream cheese mixture over crust to within 1/4 inch of rim. Arrange fruits on top. Have fun with making designs with the fruits. Brush jelly over fruits to give it a nice shiny appearance. Refrigerate at least 2 hours. Store covered in refrigerator.