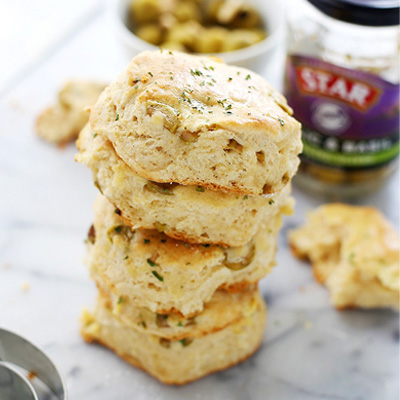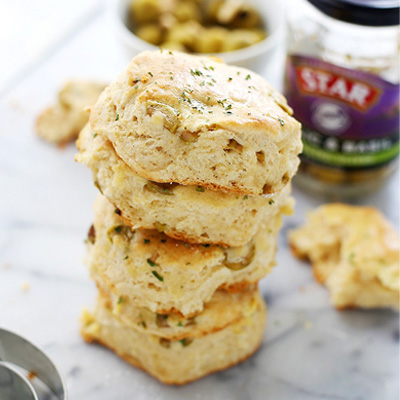 Ingredients
Instructions
Place the strips of bacon in a cast iron skillet and cook over medium-low heat for 7 to 8 minutes, or until cooked to a desired crispiness.
Remove bacon from skillet; do not discard bacon fat! Set skillet aside.
Combine flour, sugar, baking powder and salt in a large mixing bowl; whisk to combine.
Using a pastry cutter, cut butter into mixture until crumbly. You can also use your hands and fingers.
Make a well in the flour mixture and add milk into the well.
Stir dough with wooden spoon or hands and add more milk IF necessary. Dough should look like a shaggy mixture. Add sliced olives; stir just enough to combine, making sure not to over mix the biscuit dough.
Turn dough out onto a lightly floured surface and pat into a circle, about 1-inch thick. Cut out biscuits with a round biscuit cutter. Press any dough scraps together to make a few more biscuits out of the remaining dough.
Place biscuits in the previously prepared skillet with bacon fat. Depending on the size of your biscuits, you might have to bake the biscuits in batches.
In a small bowl, combine egg and water; whisk to combine. Brush each biscuit with egg wash. Sprinkle with fresh ground pepper and parsley flakes.
Bake for 12 minutes, or until golden brown on top. Serve warm.
Recipe developed by: http://www.diethood.com
Prep Time: 10 mins
Cook Time: 15 mins
Total Time: 25 mins
Serves: 12 biscuits