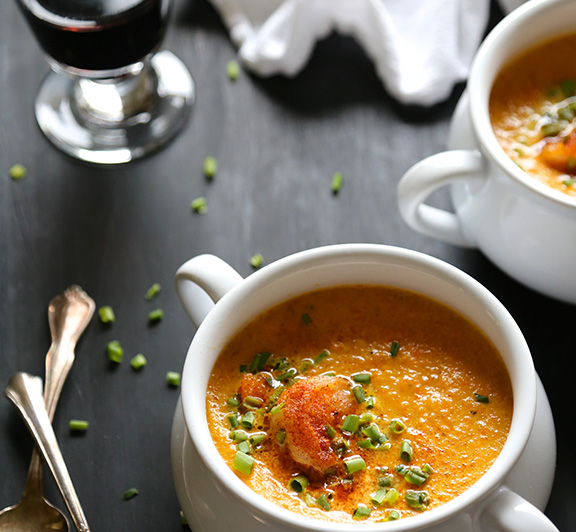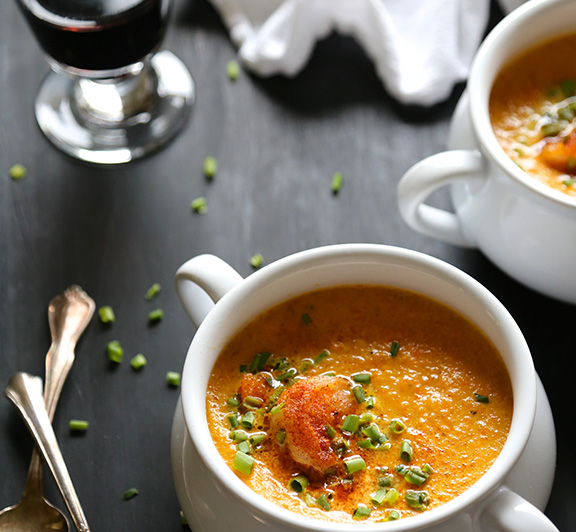 Ingredients
12 large shrimp, peeled and deveined
1/2 Tbsp. Cajun seasoning
1/2 cup fine cornmeal
Salt and pepper

For The Soup

1 yellow onion, diced
1 lb carrots, peeled and chopped
4 cups chicken stock
1 Tbsp. Cajun seasoning
1/2 cup whipping cream
Chives for garnish
Salt and pepper to taste
Instructions
In a large bowl, combine cornmeal, Cajun seasoning, salt, and pepper. Toss the shrimp into the bowl, coat the shrimp with the cornmeal mixture. It doesn't have to be completely covered just enough to get some texture on the shrimp.
In a large skillet, preheated to medium-high heat, add the olive oil. Working in batches, sauté the shrimp, about a minute per side. Remove shrimp from skillet and set aside.
In a large Dutch oven, preheated to medium-high heat, add the olive oil, onion, salt and pepper. Sauté onion until softened about three minutes.
Next, add the carrots and Cajun seasoning. Continue to cook until the carrots have softened, about five minutes. Next, add the chicken stock and bring the soup to a boil then to a simmer. Cover and cook for about 15 to 20 minutes.
Once cooked, turn off the heat and blend the soup in batches in a blender or use an immersion blender right in the pot. When the soup is to the right consistency, stir in the cream. Ladle the soup into bowls, add the shrimp, and garnish with chives.
Prep Time: 15 mins
Cook Time: 45 mins
Total Time: 1 hr
Serves: 4