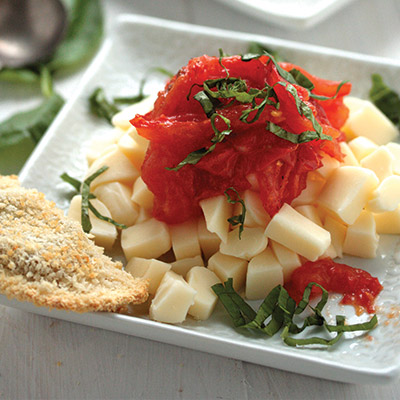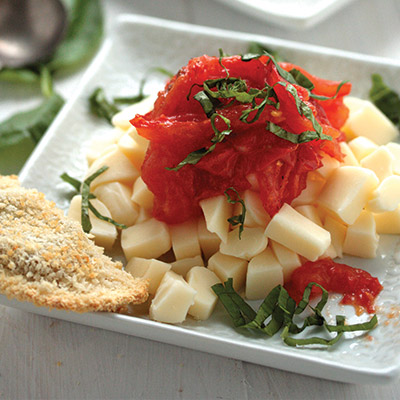 Ingredients
8 oz. part skim mozzarella, cubed
¼ cup fresh basil leaves, thinly sliced
6 roma tomatoes
Salt and pepper
2 cloves garlic, minced
3 Tbsp. STAR Balsamic Vinegar

Crispy Baked Mushroom Ravioli

1 package store bought fresh mushroom ravioli
2 cups panko crumbs
1 ½ Tbsp. STAR Olive Oil Infused with Fresh Basil
¼ tsp. ground pepper
½ tsp. salt
2 1/2. tsp Italian seasoning
2 eggs, whisked
3 Tbsp. milk
Instructions
Preheat oven to 400 degrees. Slice tomatoes into quarters and remove all inside seeds. Lay tomatoes onto an aluminum foil lined baking sheet. Sprinkle with salt, pepper, garlic, and STAR Olive Oil Infused with Fresh Basil and STAR Balsamic Vinegar.
Roast in oven for 30 minutes. Remove from oven and let cool slightly. When cool enough to handle, place tomatoes onto a cutting board and dice into pieces. Top cubed mozzarella with warm roasted tomatoes and top with thinly sliced basil. Keep oven on for ravioli.
In a non-stick pan, over medium heat, add in the 1 ½ Tbsp. STAR Olive Oil Infused with Fresh Basil to the pan. Add panko crumbs to the oil and stir to coat the panko lightly in the oil. Toast the panko, stirring frequently until it turns golden brown. Remove from heat and pour onto a plate or into a shallow bowl. Stir salt, pepper, and Italian season into the toasted panko crumbs.
In another bowl, whisk together milk and eggs. Dip each ravioli into the egg mixture and then into the toasted panko, patting the panko in to ensure it sticks. Place on a baking sheet and repeat with remaining ravioli. Bake for 15-20 minutes or until the panko turns a deep golden brown. Remove from oven and plate.
Serve with warmed roasted Caprese for topping.