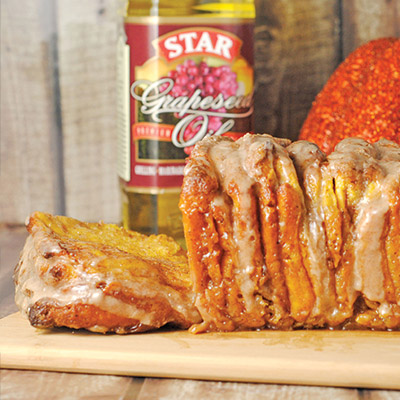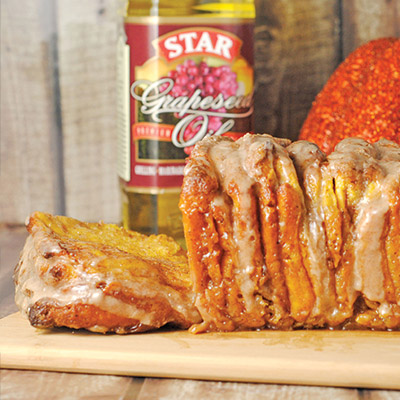 Ingredients
3 cups all purpose flour (plus extra for kneading)
1/4 cup sugar
2 1/2 tsp. active dry yeast
1/2 tsp. salt
1/4 cup milk
2 1/2 Tbsp. STAR Grapeseed Oil
1/2 cup pumpkin puree
1 tsp. vanilla
2 eggs

For the Cinnamon Sugar Filling

5 Tbsp. unsalted butter
1 cup sugar
1 1/2 tsp. cinnamon
1 tsp. nutmeg
1/4 tsp. ground ginger
1/4 tsp. ground cloves

For the Pumpkin Spice Glaze

1 cup powdered sugar
2 Tbsp. milk (plus extra as needed)
1 tsp. pumpkin pie spice
Instructions
Melt the butter in a microwave-safe dish.
In a bowl, mix together the sugar, cinnamon, nutmeg, ginger, and cloves until well-combined.
Brush the butter in an even layer over the rectangle of dough. Evenly sprinkle the cinnamon sugar mixture over the dough.
Cut the dough into six 2-inch-wide strips (lengthwise). Stack the strips on top of one another and cut them into six equal sections. Stack each section into a well-buttered 9×5 inch loaf pan. Cover the loaf and again let it rise for another 45-60 minutes.
Once loaf has risen, preheat the oven to 350. Bake the bread loaf for 30-35 minutes, or until the top has turned a deep golden brown. Allow the bread to cool for 20 minutes in the pan before removing and glazing.
Mix powdered sugar, milk, and pumpkin pie spice together in a bowl. Add more milk, as needed, to thin glaze to desired consistency.
Pour glaze over the top of the pumpkin loaf, let it set, and serve.
Related Recipes
Time: 55 mins.

Serves: 14