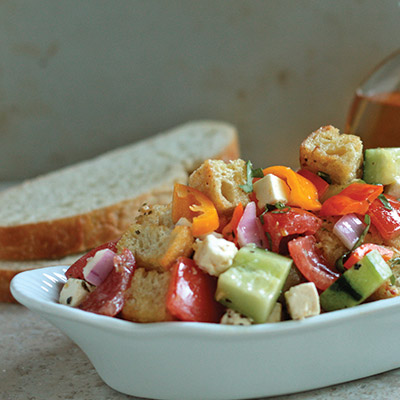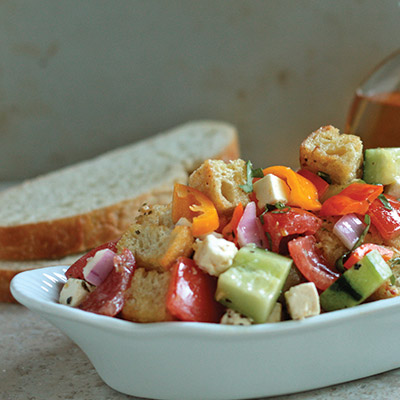 Ingredients
4-5 medium tomatoes, seeds removed and diced
½ cucumber, peeled, seeded and cut into half moons
1 cup bell pepper, diced of any color
1 shallot, thinly sliced
¾ cup basil, chiffonade
½ cup feta cheese, crumbled or cubed
3 1-inch slices of artisan bread, cut into large cubes
¼ cup STAR Original Olive Oil (mix to taste with red pepper flakes and cayenne pepper)
½ tsp. salt
¼ tsp. gound pepper
¼ tsp. dried Italian seasoning

Vinaigrette:

1 Tbsp. high quality Dijon Mustard, smooth variety
1/3 cup STAR Original Olive Oil (mix to taste with red pepper flakes and cayenne pepper)
½ tsp. salt
¼ tsp. ground pepper
2 cloves garlic, minced
Instructions
In a large bowl, gently fold together the tomatoes, cucumber, bell pepper, shallot, basil and feta together. Set aside.
In another bowl, toss together the cubed bread, STAR Original Olive Oil (mix to taste with red pepper flakes and cayenne pepper), salt, pepper and dried Italian Seasoning. Place on a cookie sheet and place under the broiler to toast until crispy and golden brown.
Turn bread cubes over several times to ensure all bread is evenly toasted. Remove from oven and allow to cool. Once cool, gently fold into the rest of the vegetables.
In a small bowl, whisk together vinaigrette ingredients until evenly mixed together. Drizzle over the panzanella and gently fold it in until all is evenly coated. Place in refrigerator and allow to rest for at least 30 minutes.
Related Recipes
Time: 15 MIN

Serves: 4 SERVES