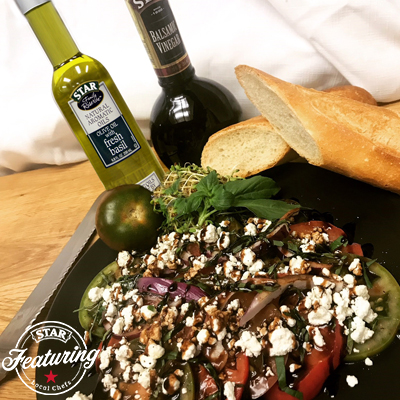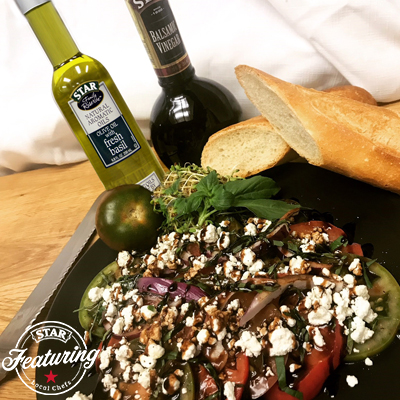 Ingredients
4-5 heirloom tomatoes
1/2 red onion
4 oz. goat cheese
6 leaves fresh basil
4 oz. alfalfa sprouts
4 oz. STAR Balsamic Vinegar
Instructions
Simply slice the tomatoes or cut into wedges to add texture and make them easy to serve. Next, slice the red onion and scatter on top of the tomatoes.
Use 5-6 fresh basil leaves to "chiffonade," roll and slice, and sprinkle on top.
Crumble the goat cheese and add it to the salad, this is where you will start to see the colors really pop. For the alfalfa sprouts, you can keep them in a bundle on the side for garnish or you can spread them out over the top of the salad as well.
Drizzle infused basil olive oil and balsamic vinegar over the top of all the ingredients. Make sure to cover the entire salad. Add a pinch of salt and fresh cracked pepper to season and you're done!
For an even sweeter taste, substitute the balsamic vinegar for Modena Creamy Balsamic Glaze . They both work very well for this beautiful and tasty salad.