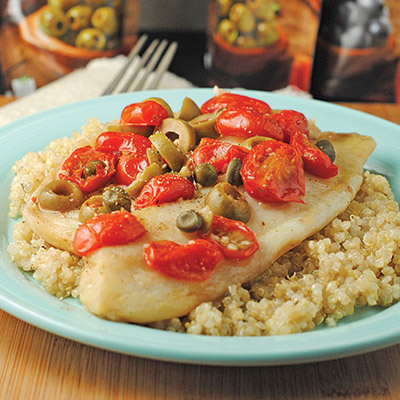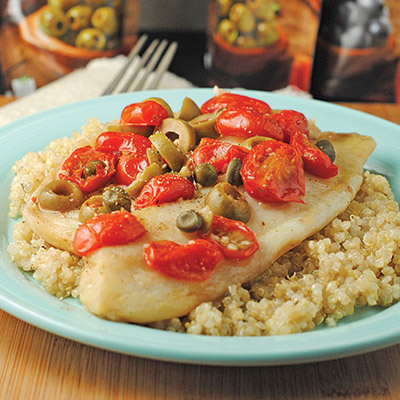 Ingredients
4 Tilapia filets
10 oz. grape or cherry tomatoes, halved
1 2.5 oz pouch STAR Pitted Manzanilla Olives, drained and sliced
2 Tbsp. STAR Capers
1 clove garlic, minced
1 large pinch of red pepper flakes
Salt and pepper
2 Tbsp. unsalted butter (you can also use olive oil), divided
2 Tbsp. white wine, divided
4 large sheets of aluminum foil, sized large enough to make a pouch for the fish and topping
Instructions
Preheat your grill to a medium-high setting.
In a bowl, mix the grape tomatoes, olives, capers, garlic, and red pepper flakes until well-combined.
Lay one piece of tilapia in the center of a piece of foil. Season the fish liberally with salt and pepper. Spoon 1/4 of the olive and tomato mixture over the top of the fish. Fold all of the sides of the aluminum foil up to form a "boat" around the fish.
Pour 1/2 Tbsp. of white wine over the fish and veggies. Top fish with 1/2 Tbsp. of butter, broken into small pieces. Completely seal the aluminum foil up and around the fish and veggies so that the seal is on top, and no liquid will be able to escape during grilling. Repeat the process with the remaining fish.
Grill the sealed fish packets for approximately 15-17 minutes, or until the fish has cooked through and the tomatoes have softened.
Serve immediately over a bed of rice or quinoa.
Recipe developed by: http://jcocina.com/
Prep Time: 5 mins
Cook Time: 25 mins
Total Time: 30 mins