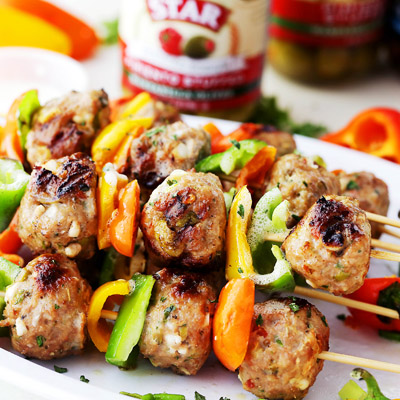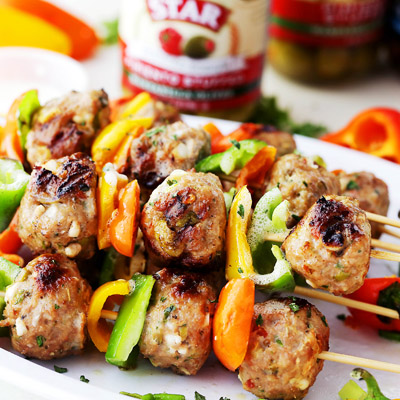 Ingredients
1 pound ground turkey meat, 95% lean
⅓ cup plain panko crumbs or plain bread crumbs
½ cup crumbled fat free feta cheese
½ cup chopped STAR Reduced Sodium Pimiento Stuffed Manzanilla Olives
2 green onions, cut into thin slices (trim the tops and ends and discard)
3 garlic cloves, minced
¼ cup chopped fresh parsley
1 teaspoon Italian seasoning
Salt and fresh ground pepper, to taste
1 large egg, lightly beaten
Green, red, and orange pepper, cut into 1-inch squares (I use the mini bell peppers)
Other: 8 to 10 bamboo skewers
Instructions
Heat a grill to medium-high.
In a large mixing bowl combine turkey meat, bread crumbs, feta, olives, green onions, garlic, parsley, Italian seasoning, salt, pepper and egg; mix well to combine.
With moistened hands, shape mixture into 16 meatballs, about 2 inches in diameter.
Thread the meatballs and peppers alternately onto skewers.
Lightly oil the grates of the grill.
Place the meatball skewers on the grill and cook for 12 to 15 minutes, rotating about every 3 minutes to cook evenly. Meatballs should be just cooked through, but not overcooked.
Serve warm with garlic yogurt sauce.
Recipe developed by: http://www.diethood.com
Prep Time: 10 mins
Cook Time: 15 mins
Total Time: 25 mins
Serves: 8-10 skewers