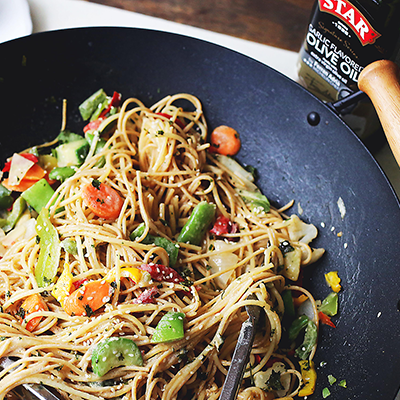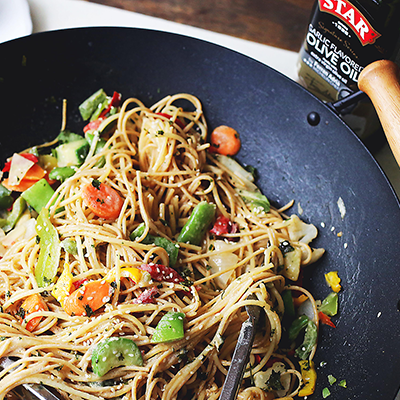 Ingredients
8-ounces whole grain spaghetti
1 tablespoon + 1 teaspoon STAR Ferran Adrià Signature Series Garlic Olive Oil, divided
1 clove garlic, minced
1 bag (15 ounces) stir fry vegetables

For the Peanut Sauce
¼ cup natural creamy peanut butter
2 tablespoons reduced sodium soy sauce
¼ teaspoon Sriracha, or to taste
⅛ teaspoon ground ginger
1 tablespoon lime juice
1 tablespoon STAR Ferran Adrià Signature Series Garlic Olive Oil
Water, to thin sauce

For Garnish (Optional)
Sliced green onions
Chopped fresh cilantro
Chopped roasted peanuts
Toasted sesame seeds
Instructions
Cook pasta according to the directions on the package, adding 1 teaspoon of the olive oil to the water.
Heat olive oil in a wok over medium-high heat; add garlic and cook and stir for 20 seconds, or until fragrant.
Add vegetables and continue to cook for 6 to 8 minutes, or until tender.
In the meantime, prepare the peanut sauce: In a mixing bowl, combine peanut butter, soy sauce, sriracha, ground ginger, lime juice, and olive oil; mix until thoroughly combined. Add a tablespoon or two of water just to slightly thin it out.
If there's water on the bottom of the wok, drain the veggies and place them back in the wok over medium-high heat.
Drain spaghetti and add them to the vegetables.
Gently stir in the peanut sauce, tossing to combine.
Remove from heat. Sprinkle with green onions, cilantro, peanuts and toasted sesame seeds.