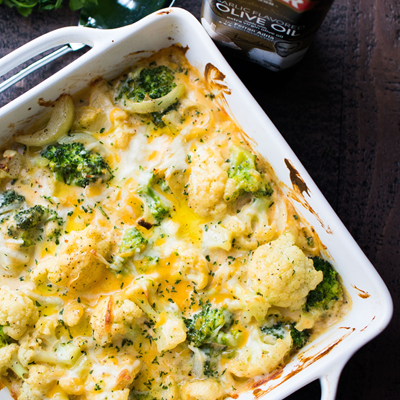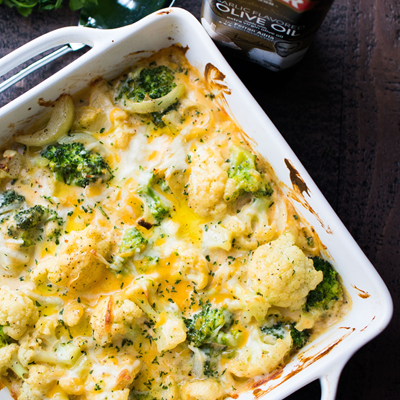 Ingredients
1 pound broccoli florets
1 pound cauliflower florets
1 large onion, sliced
2 garlic cloves, minced
Salt and fresh ground pepper, to taste

For the Cheese Sauce: 1 cup reduced fat shredded cheddar cheese, divided
1 Tbsp. corn starch
1 can (12 ounces) fat free evaporated milk
1/2 tsp. dijon mustard
1/4 tsp. smoked paprika, or to taste
1/4 cup low fat, part skim shredded mozzarella cheese
Instructions
Drizzle a little olive oil on the bottom of a square baking dish; spread it around and set aside.
In a large skillet, bring 1/2 inch of salted water to a boil. Add the broccoli and cauliflower; cover and cook over high heat until crisp-tender, about 4 minutes. Drain the vegetables in a colander and set aside.
Wipe out the skillet, add 2 Tbsp. olive oil and heat over medium-high heat. Add onions and cook for 3 minutes, or until softened.
Stir in minced garlic and continue to stir and cook for 1 minute. Add broccoli and cauliflower to the skillet. Season with salt and pepper and continue to cook for about 2 minutes, or until lightly golden. Remove from heat and transfer the vegetables to previously prepared baking dish; set aside.
Wipe the skillet and add 1 Tbsp. olive oil, 3/4 cup shredded cheddar cheese, corn starch, evaporated milk, mustard, salt, pepper, and paprika. Cook over low heat, stirring constantly with a whisk until melted and thickened; about 2 minutes
Pour cheese sauce over broccoli and cauliflower; stir to combine. Sprinkle remaining cheeses over the top and bake for 20 minutes, or until lightly browned and bubbly.
Remove from oven and serve immediately.
Recipe developed by: http://diethood.com
Prep Time: 10 Mins.
Cook Time: 30 Mins.
Total Time: 40 Mins.
Serves: 6