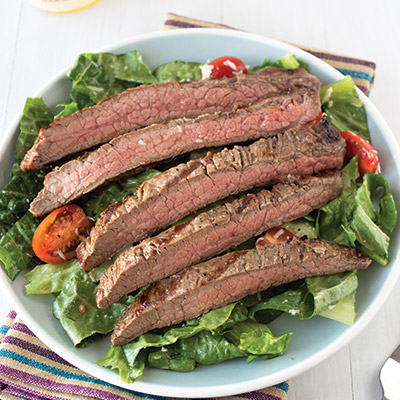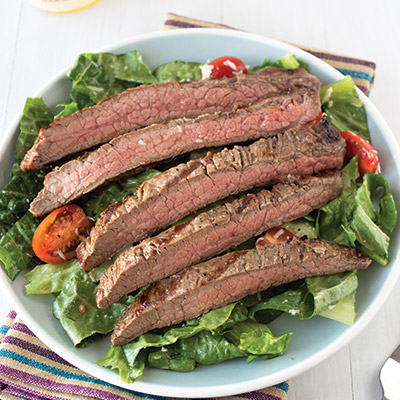 Ingredients
For the steak

1/4 cup STAR Roasted Garlic Oil
2 tablespoons freshly squeezed lemon juice
1/2 teaspoon onion powder
1 1/2 pounds flank steak
Kosher salt and freshly ground black pepper to taste

For the dressing

6 tablespoons STAR Roasted Garlic Oil
3 tablespoons freshly squeezed lemon juice
1 teaspoon Dijon mustard
Kosher salt and freshly ground black pepper to taste
Instructions
Steak
In a small dish or plastic bag, combine the oil, lemon juice, onion powder, and steak, making sure the steak is well coated. Cover the dish or close the bag and marinade in the refrigerator for at least 8 hours, or up to 24 hours. After marinating, season to taste with salt and pepper.
Prepare the grill for direct cooking over high heat (450°F to 500°F). Grill the steak with the lid closed as much as possible, until the meat is slightly charred, and is medium-rare inside with an internal temperature of 135°F, about 5 minutes per side depending on the thickness of the steak. Transfer to a cutting board and let rest for 5 minutes. Thinly slice across the grain.
Dressing
Meanwhile, combine the dressing ingredients in a small bowl and whisk vigorously until emulsified. You can also combine the dressing ingredients in a small mason jar and shake well until emulsified. Use immediately or store in the fridge for up to a week. Bring the dressing to room temperature and whisk or shake to re-emulsify.
Combine all the salad ingredients. Toss with the dressing. Divide between four plates. Divide steak slices among plates. Serve.
Related Recipes
Time: 1 hr 15 mins

Serves: 3-4