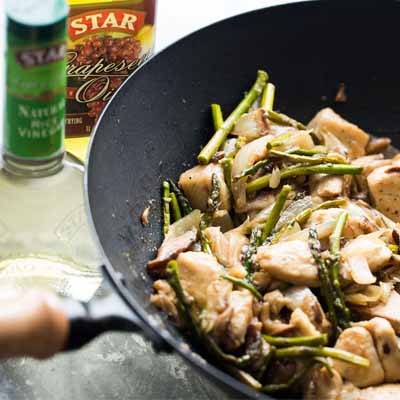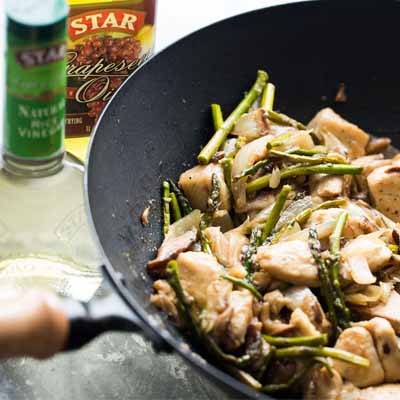 Ingredients
Sauce

1/4-cup low sodium soy sauce
2 Tbsp. STAR Natural Rice Vinegar
1 Tbsp. agave nectar
1/4 tsp. ground ginger
1/4 tsp. cornstarch

Chicken & Vegetables

1 lb. skinless chicken breasts, cut into bite size pieces
1 Tbsp. cornstarch
3 Tbsp. STAR Grapeseed Oil or vegetable oil, divided
1 large yellow onion, sliced
8 to 10 oz. sliced shiitake mushrooms
3 to 4 cloves garlic, minced
1 lb. asparagus spears, cut into 2-inch pieces and ends trimmed
Cooked rice, for serving
Instructions
Prepare the sauce by combining soy sauce, rice vinegar, agave nectar, ground ginger, and cornstarch in a small mixing bowl; whisk until well incorporated and set aside.
Combine chicken pieces and cornstarch in a bowl; mix to combine and let stand 5 minutes. Heat a wok or a skillet over high heat. Add 1 Tbsp. oil and add chicken pieces; cook for 5 to 7 minutes, or until cooked and browned on all sides.
Remove chicken from skillet, cover and set aside. Return wok or skillet to heat and add remaining oil.
Add onions and cook for 2 minutes. Stir in garlic and continue to cook and stir for 20 seconds, or until fragrant. Add sliced mushrooms and asparagus to the wok and stir-fry 4 minutes, or until mushrooms are softened and asparagus is crisp-tender.
Stir the sauce and pour it over the vegetables. Bring to a boil over medium heat, stirring frequently. Cook for 2 minutes or until sauce is slightly thickened.
Stir in previously prepared chicken and cook for 30 seconds or until heated through. Taste for seasonings and adjust accordingly.
Serve over prepared rice.