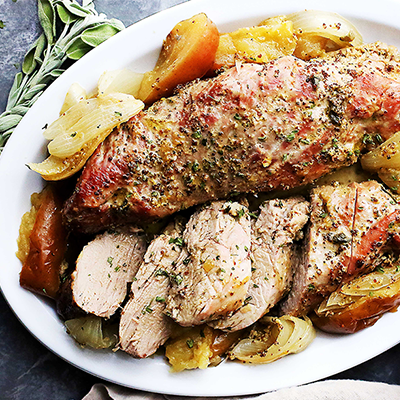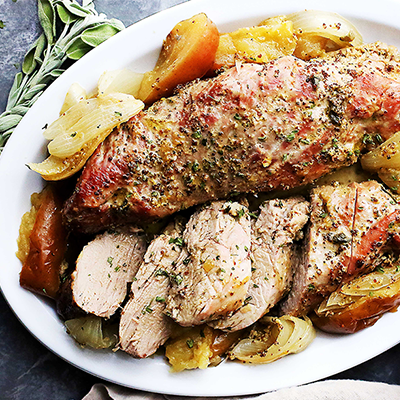 Ingredients
2 pounds pork tenderloin
Salt and fresh ground pepper, to taste
2 onions cut into wedges
2 apples cut into wedges
1/2 cup apple juice
2 tablespoons STAR Unfiltered Organic Apple Cider Vinegar
1 tablespoon whole grain Dijon mustard
1 tablespoon chopped sage
Instructions
Lightly grease a roasting pan with cooking spray; season pork tenderloin with salt and fresh ground pepper and transfer to roasting pan.
Arrange wedges of onions and apples around the meat and set aside.
In a mixing bowl, combine apple juice, apple cider vinegar and mustard; whisk until thoroughly combined. Stir in sage.
Pour the apple-dijon mixture over the meat.
Cover with foil and roast for 1 hour.
Remove foil and put back in oven, continue to cook for 20 minutes, basting the meat every 4 minutes with the juices in the pan.
Remove from oven and let rest for about 10 minutes. Cut and serve.
Recipe developed by: http://www.diethood.com
Prep Time: 5 mins
Cook Time: 1 hr 20 mins
Total Time: 1 hr 25 mins
Serves: 6