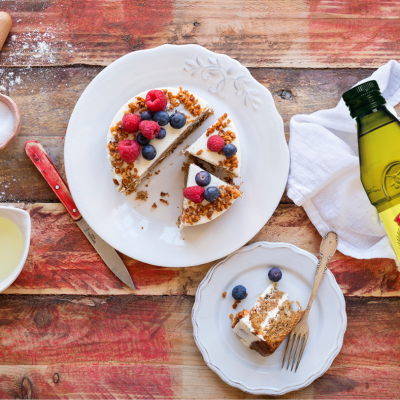 Salad
If you're the salad king (or queen), your lunches probably look more like a Picasso painting than a salad. The ideal way to bring all this to life is with Star extra virgin olive oil, an intense, strongly flavored olive oil with a delicate texture that leaves a delicious aftertaste of almond. It livens up dishes without smothering the flavor.
Dessert
Bakers, who make homemade treats every day to the envy of their work colleagues have an ideal ally in the form of Star extra light olive oil. It's perfect for moist, spongy cakes and adds a lovely light and delicate flavor. Taste the difference!
Everything Else
Star original olive oil is ideal for cooking or using in a wide range of recipes. Its balanced flavor comes from blending two oils: a refined olive oil and an extra-virgin olive oil. The result? A multipurpose olive oil ideal for everyday uses.