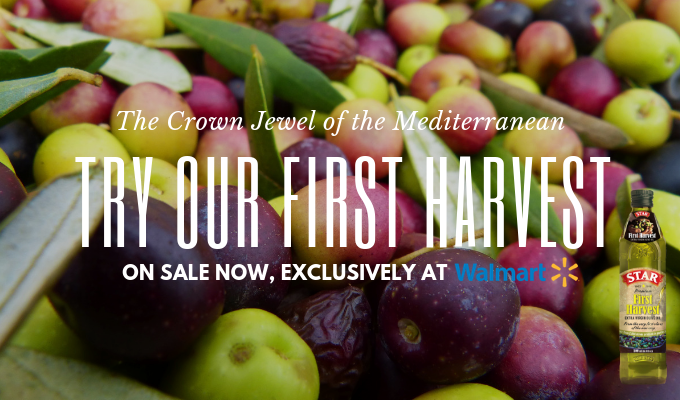 Experience the Magic of Harvest 
Over a century of tradition and passion have come together to create our exquisite olive oil. During first harvest season, the most pristine olives are picked and transported to our factories to be pressed and turned into liquid gold. We are proud to share our craft with you.
---
Agriculture & Olive Buying
---
Meet Alvaro Serrano Gamez. He takes the first step in our harvest and searches the Mediterranean to find the finest olives to be pressed into STAR olive oil. A good olive tree is characterized by the deep green color of the olive, which shows it has received the necessary nutrients and water. It should also have large leaves with a deep green color on the upper side and a silvery white on the underside.
Farming and Harvest
---
Once we decide it is the best time to harvest, our team sets out to begin collecting the olives. Using a machine, the trees are shaken to have the olives fall onto canvas sheets that protect them from coming into contact with the earth. They are then transported to the factory where they are immediately pressed into oil to maintain freshness and quality.
Production
---
To ensure quality, our olives are harvested at a cool temperature, transported as fast as possible to the olive mill and processed the minute it reaches the press. The less time that passes between leaving the tree and getting to the press, the better.
Once at the factory, the olives are cleansed and production begins. On average, it takes between 6-10 hours for the fruit to be transformed into our rich oil. Around eleven pounds of olives are needed to produce one liter of oil.
Quality Control and Olive Oil Tasting
---
Every olive produces a different flavor of oil. The most common in the world are the Spanish varieties, namely the Picual olives.
Domingo Robles, our master blender, expertly blends oils made from different varieties of olives to produce desired flavors. Our laboratories then test each variety to ensure it maintains the highest quality and integrity. Our family of dedicated and passionate olive oil lovers only approve the top 5% of oil to wear our logo.
Bottle Cycle
---
Our bottling factory currently bottles around 100 million liters of olive oil every year. Care is taken on the factory floor to ensure efficiency and quality during the bottling process.
Our team at the factory seamlessly works together to ensure operations progress smoothly and safely.
Logistics
---
We put the utmost care and attention to detail into transporting our oil to 114 countries around the world. We strive to deliver a top quality product that reaches our customers in perfect condition, as quickly as possible.