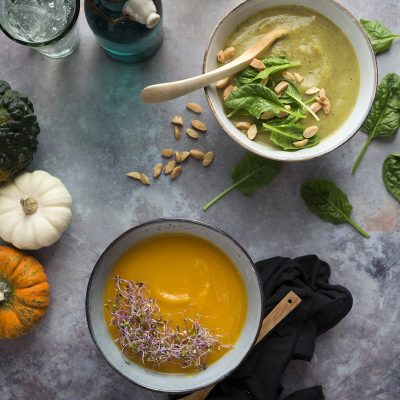 Veggies take on a whole new life with a dash of extra-virgin olive oil. This liquid gold makes any dish into a real treasure. If you're a fan of vegetable soup, you're in for a treat. So, make sure you've got a bottle of extra-virgin olive oil on hand: it's as vital as the air you breathe. 
Obviously, you can make vegetable soup without extra-virgin olive oil, but the result is so disappointing that you'd never make that mistake twice. Not only do you need it for sautéing the vegetables or to add some extra flavor by lightly browning some garlic, it also adds a delicious final touch at the end. There's no better, or healthier, way to add flavor and character.
For example, the first step when making wild mushroom and chestnut soup, with added leeks and garlic, is to gently sauté all the vegetables. That's the case for cauliflower and leek soup too. And you can't make seafood soup without first giving the prawns a good toss in a frying pan and sweating the onion and carrots. The same goes for all kinds of vegetable soups. Remember: the secret ingredient is extra-virgin olive oil.