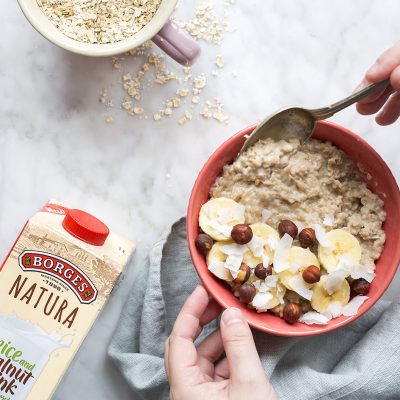 Have you tried overnight oats? It's super trendy right now and with good reason — It's the perfect balanced breakfast, filled with protein and fiber to keep you full throughout the morning!
Overnight oats are meant to be eaten cold, so no need to spend extra time trying to heat it up– simply grab it and go! Are you already feeling excited to try this delicious meal? Read on for our infallible formula for making the best overnight oats every single time.
It's simple and takes no more than a few minutes to prepare — simply soak rolled oats in our one-of-a-kind, Natura Rice and Walnut drink and let it make itself while you sleep! For preparation, use equal parts rolled oats and Natura Rice and Walnut drink.
Here's where it gets fun: add your favorite toppings in the morning. Choose from the following suggestions for fun and delicious combinations every day—you'll never grow tired of this deliciousness!
For sweetness:
Add a bit of honey or maple syrup

Slice up a couple dried pitted dates. Dates are naturally sweet and a healthier option. They contain natural antioxidants, fiber and nutrients, plus they'll give your overnight oats a caramel-like flavor. Yum!
For texture:
If you enjoy creamy textures, add some of your favorite yogurt together with our Natura rice and walnut drink, shake it up and let it sit in your refrigerator overnight. Not a yogurt fan? Not a problem, add some chia seeds instead. They will give your oats the same creamy consistency as yogurt, plus an added boost of Omega-3's.
Flavorings: (This is where you let your creativity run wild!)
Ground cinnamon—This is a classic!

Syrups (try caramel or chocolate)

Cocoa powder – Choose between dark or not so dark.
For color: Add your favorite dried or fresh fruits on top!
Raspberries, strawberries, blueberries, blackberries

Apples

Bananas
For the crunch:
Add nuts like pistachios, sliced almonds, pecans, walnuts or hazelnuts

Dried coconut
Enjoy!