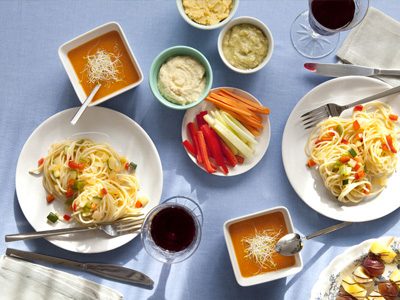 It's no secret that the way to someone's heart is often through their stomach. You're not going to work wonders if there isn't already an initial spark, but an impressive meal might just seal the deal. However, you should plan the following aspects carefully beforehand to make sure your romantic dinner doesn't suddenly become an awkward evening.
First of all, don't go overboard on the menu; simple, tasty dishes always work best. But feel free to let your imagination run wild when it comes to presentation. There are plenty of ways to captivate your date as well as whet their appetite. Be bold but don't take any risks, especially if you don't know whether or not they eat raw fish or spicy food, for example. All clear? Let's get cooking!
Hot and cold starters to get things going
Start by putting out some starters on the table to get the evening going, while you pour the wine (you did buy a decent bottle of wine, right?). Here are some ideas for hot and cold dishes to share. There's no need to dazzle your date with ten starters before the main course, but it's well worth showing them that you can rustle up more than just a salad. A light soup (hot or cold, depending on the season), a series of original dips or some aubergine spring rolls with cream cheese and walnuts could be just the thing. Check out some appetizer ideas here.
Play it safe with the main course
Who doesn't like pasta? Since you probably don't know whether your date prefers meat or fish, or is more of a fan of traditional cooking than fusion cuisine, you're best to stay on solid ground and make a good pasta dish. You don't have to stick to traditional Bolognese or carbonara, though: there's a whole host of original pasta recipes. Vegetables, meat, seafood… you can't go wrong with a traditional Chicken Caprese Pasta or Lemon Chicken Pasta. If you decided to make seafood starters, follow up with a vegetable or meat pasta dish for the main course, or vice versa.
Keep desserts nice and light
After such an impressive meal—especially if your date has been polite enough to eat up all of your creations—it's best not to finish off with a heavy dessert. Go for something fresh to keep the conversation flowing: a mousse, strawberries drizzled with balsamic vinegar or any of these ideas would be perfect.