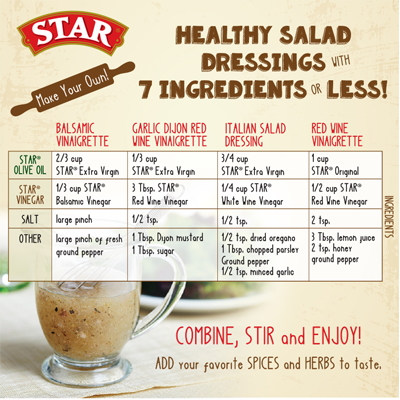 Summer dishes and backyard cookouts conjure up good memories of carefree gatherings spent with family and friends. Whether it is bruschetta made from your garden tomatoes, barbecued chicken coated in a homemade marinade or a salad sprinkled with summer's freshest produce, STAR Olive Oils and Vinegars are the perfect accent to your favorite summer dishes.
This summer, use fresh ingredients and make delicious recipes from scratch. Ditch premade dressings and marinades; make your own from scratch using STAR Olive Oils and Vinegars! It is a lot easier than you might think and you'll feel better knowing exactly what you are eating.
Click Here to download our recipe card for four healthy salad dressings each made with 7 ingredients or less!
For more summer recipe inspiration, check out our Savor the Flavors of Summer Pinterest board.