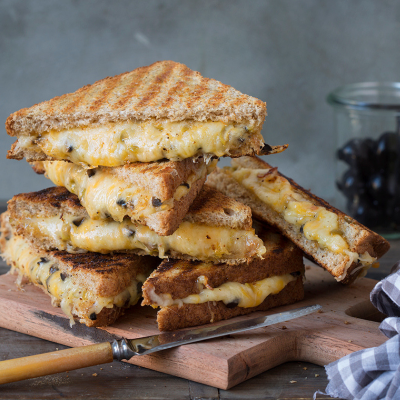 Who doesn't love a good grilled cheese sandwich? Simple to make and simply delicious, if made well. The classic recipe contains just three ingredients: sliced bread, butter and cheese. It's best to use a cheese, or mixture of cheeses, that melts easily when heated: mozzarella, Cheddar, Gouda…
If you want nicely toasted bread on the outside and a creamy inside, it's best to butter the two slices of bread on one side and then place them in a frying pan buttered side down, rather than melting the butter in the frying pan. This ensures a uniform crispy texture.
If you're looking for a healthier version, swap the butter for Star extra virgin olive oil, which is packed with polyphenols and other properties that help boost circulation and digestion, as well as adding a great taste to the sandwich.
For a final special touch, add some finely chopped Star green or black olives to make your grilled cheese sandwich a truly original appetizer. Cut the slices of bread into four triangles, fill them with your favorite cheese and add the olives (preferably Star olives). Pop the sandwich into the frying pan and in just FIVE minutes you've got a mouthwatering appetizer.