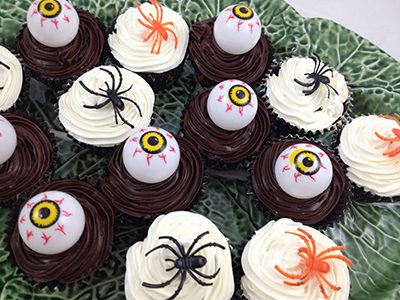 We love so many things about Halloween but the challenging part is all the sugary foods between the Halloween parties and the Trick or Treating.  Add a gluten or wheat allergy in there and you are in for difficult time.
These cupcakes are SO GOOD that you won't even notice they are gluten free! We dressed them up a bit for Halloween but these cupcakes are also amazing just served plain.
Makes 12-14 large cupcakes
Ingredients
2 cups cooked quinoa, cold (cook according to package directions)
1/3 cup milk
4 large eggs
1 tsp pure vanilla extract
1/2 cup + 1 Tbsp STAR Light Tasting Olive Oil
3/4 cups cane sugar
1 cup unsweetened cocoa powder
1 1/2 tsp baking powder
1/2 tsp baking soda
1/2 tsp salt
12-14 cupcake liners
Directions
Preheat oven to 350 degrees F. Line a muffin tin with the 12 large-sized cupcake liners.
In a food processor combine milk, eggs, vanilla. Blend until combined. Add 2 cups of cold cooked quinoa and STAR Extra Light Olive Oil and continue to blend until smooth.
Mix in the sugar, cocoa, baking powder, baking soda and salt into the food processor. Blend well to combine.
Pour from the blender directly into the cupcake liners, evenly distributing the cupcake batter between the 12 liners. Gently tap the tin on the counter to ensure there are no air bubbles. Smooth the tops with a small spatula.
Bake in the center of the oven for approximately 30 minutes. Test the cupcakes for doneness with a toothpick or cake tester and allow to cool for 5 minutes. Remove from the pan and allow the cupcakes to cool completely on a rack.
Frost if desired. Cupcakes can be stored sealed in the refrigerator for up to 1 week or frozen for up to 1 month. We added eyeballs and spider rings to give them Halloween flair.