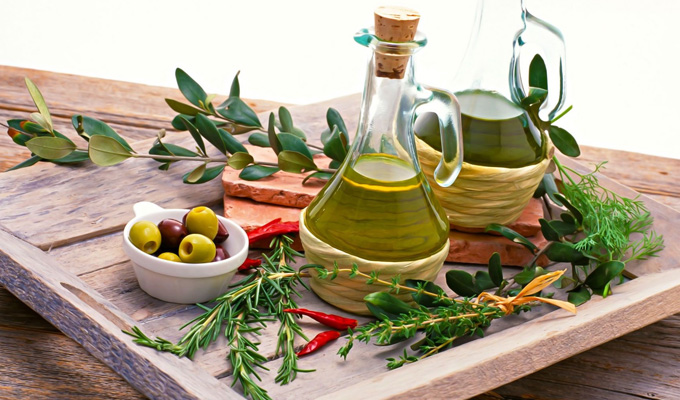 STAR is proud to support Fresno State Athletics
STAR® Fine Foods is part of your community and is proud to support Fresno State Athletics. Over the years, we have donated over 100,000 meals to the Community Food Bank which is located in Fresno and serves five counties in the Central Valley. We continue those efforts this year and urge our community to do as much as they can. We are there when the games happen to cheer for the Bulldogs and are thrilled to employ many Fresno State graduates.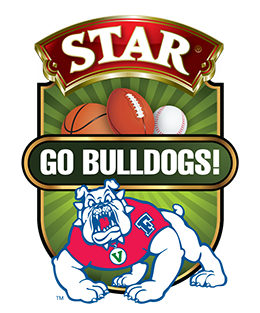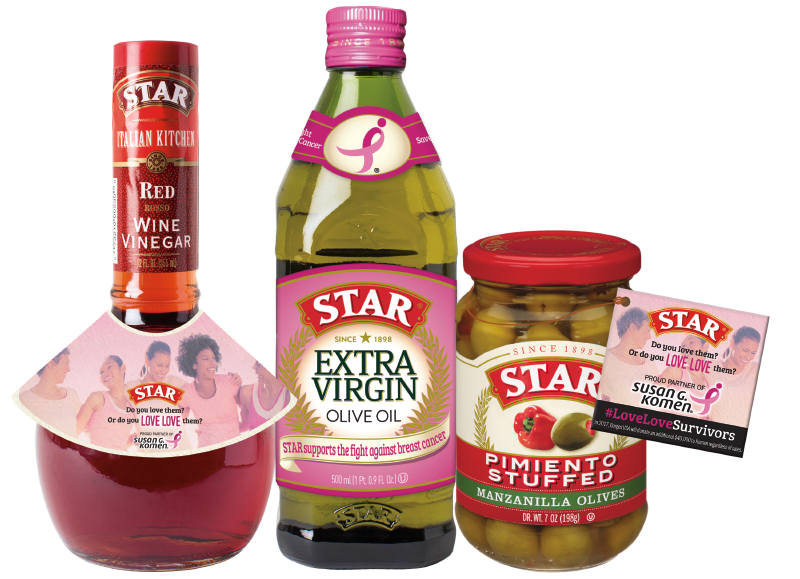 STAR is a proud partner of Susan G Komen®
Since 2014, Borges USA has donated more than $145,000 to Susan G. Komen to help support its mission to save lives by meeting the most critical needs in our communities and investing in breakthrough research to prevent and cure breast cancer. In 2017, Borges USA will donate an additional $40,000 to Komen regardless of sales.
During the fall season, olive oil and vinegar aisles in retail grocery stores throughout the United States get a little rosier as our 500 ml STAR Extra Virgin Olive oil labels turn from green to pink coinciding with Breast Cancer Awareness Month in October. Our Red Wine Vinegars and some of our olives will also have special pink tags in support of the cause.
Susan G. Komen is the world's largest breast cancer organization, funding more breast cancer research than any other nonprofit while providing real-time help to those facing the disease. Since its founding in 1982, Komen has funded more than $800 million in research and provided $1.7 billion in funding to screening, education, treatment and psychosocial support programs serving millions of people in more than 30 countries worldwide. Komen was founded by Nancy G. Brinker, who promised her sister, Susan G. Komen, that she would end the disease that claimed Suzy's life. Visit komen.org or call 1-877 GO KOMEN. Connect with them on Facebook and Twitter.
STAR proudly supports Operation Homefront
Operation Homefront assists American military service members and their families when they have needs associated with financial hardships that arise as a result of their military service.
STAR is proud to have donated $50,000 to Operation Homefront between January 31, 2013 and January 31, 2015.


STAR was a proud sponsor of the City of Hope 2014 Festival Ball
Established in 1978, the Northern California Food Industries Circle (NCFIC) represents a unique commitment among the region's leading retailers, brokers, manufacturers and related vendors to support City of Hope's humanitarian efforts.
Throughout its evolution, the NCFIC's common link year after year has been its capacity for partnering business acumen with philanthropy. The NCFIC has raised over $37 million for City of Hope, making this industry alliance one of the premier fundraising groups in the region.
http://www.cityofhope.org/northern-california-food-industries-circle-festival-ball#Sponsors