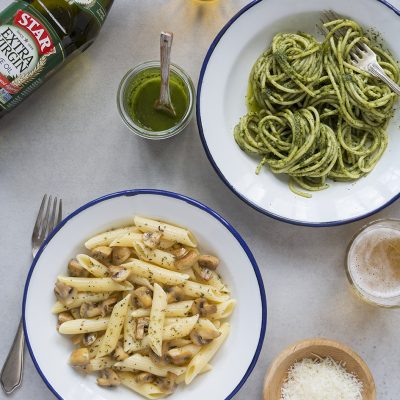 Neapolitan-style
Extra virgin olive oil, tomatoes, basil, salt and pepper (and a pinch of sugar to cut the acidity of the tomatoes if necessary). Cook all the ingredient together, blend, sprinkle with Parmesan cheese and mamma mia! 
Pesto 
Whether green or red, this versatile, original sauce always packs a punch… What an invention! 
Mushrooms 
Make the most of summer mushrooms for your pasta dishes. Simply fry them slightly with some garlic in plenty of extra virgin olive oil, add herbs and spices to taste and top off with a sprinkling of Parmesan cheese. Yum! 
Aglio e olio 
The easiest, yet most impressive recipe in the book. Warm some cloves of garlic in plenty of olive oil, then mix with your cooked spaghetti and sprinkle with Parmesan cheese. Ready to serve!