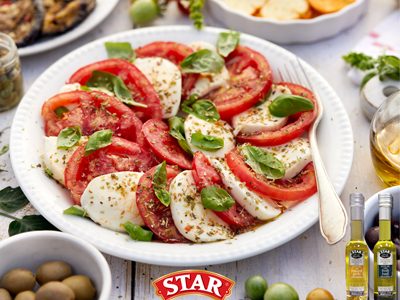 Do you like salads but want to spruce them up a bit? Are you tired with the same old recipes? If so, you'll love these recipes for salad dressings using our infused olive oils!
Let's start with something easy: A Classic Mozzarella and Tomato Caprese Salad 
We recommend making an aromatic salad dressing using STAR Basil Infused Olive Oil, a pinch of salt and black pepper, and pine nuts. Half-vinaigrette, half-pesto, this dressing will take your Caprese salad to the next level. Make the most of the fresh tomatoes that are just coming into season!
Try it with pasta salads too!
You can create your own cold pasta salad by adding a variety of vegetables or fruits such as; bell peppers, olives, and strawberries. Then toss in salami or chicken and top with your choice of cheese (mozzarella, feta, blue cheese) and  drizzle with STAR Basil Infused Olive Oil. It's so flavorful and delicious!
A dazzling dressing for those with exquisite tastes
Combine walnuts, a dash of STAR White Wine Vinegar, a pinch of black pepper and STAR Roasted Garlic Infused Olive Oil. It pairs beautifully with salmon on a bed of mixed leaves. Light, simple and refined. What more could you ask for?
Don't forget about Kale
Here's a great recipe everyone will love using our STAR Roasted Garlic Infused Olive Oil; kale with dates, almonds, and galric-shallot vinaigrette. It's an explosion of colorful flavors in your mouth and this recipe is so versatile, you can add just about anything to it.
Find the recipe here: http://starfinefoods.com/recipes/kale-salad-with-dates-almonds-and-garlic-shallot-vinaigrette/