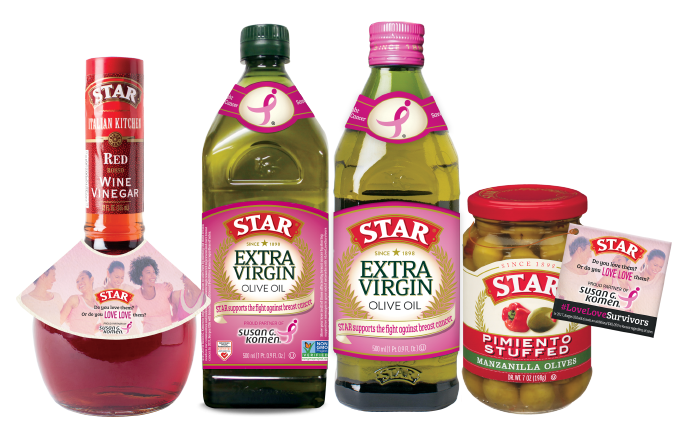 STAR is a proud partner of Susan G. Komen® and its mission to save lives and end breast cancer forever.  During the fall season, olive oil and vinegar aisles in retail grocery stores throughout the United States get a little rosier as our 500 ml STAR Extra Virgin Olive oil labels turn from green to pink coinciding with Breast Cancer Awareness Month in October. Our Red Wine Vinegars and some of our olives will also have special pink tags in support of the cause.
In 2017, Borges USA will donate $40,000 to Susan G. Komen® regardless of sales.
About Susan G. Komen®
Susan G. Komen is the world's largest breast cancer organization, funding more breast cancer research than any other nonprofit while providing real-time help to those facing the disease. Since its founding in 1982, Komen has funded more than $800 million in research and provided $1.7 billion in funding to screening, education, treatment and psychosocial support programs serving millions of people in more than 30 countries worldwide. The Susan G. Komen Foundation was brought to life by Nancy G. Brinker, who promised her sister, Susan G. Komen, that she would end the disease that claimed Suzy's life. Visit komen.org or call 1-877 GO KOMEN. Connect with them on  Facebook and Twitter.
For more information about breast cancer, you can download these .pdfs: