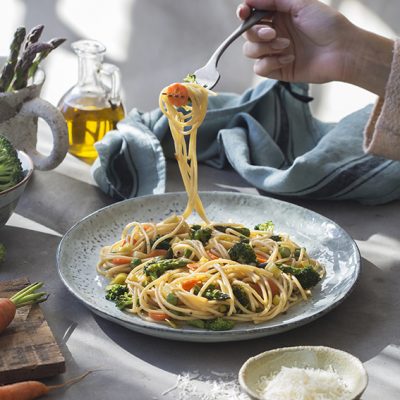 Grab a bottle of STAR extra-virgin olive oil and say goodbye to the post-summer blues with these healthy dishes that will bring back that high-energy feeling.
Lentil salad to the rescue! Mix some cooked lentils, smoked salmon, crumbled feta, and a handful of cashews. Add a dash of extra-virgin olive oil. Dinner's ready! What about breakfast? Whole grain bread, a drizzle of extra-virgin olive oil, some avocado slices, a little sliced tomato, and sesame seeds on top. Yum!
Wondering what to do with that leftover pasta? Add some vegetables (whatever you can find in your fridge): peppers, onion, carrots, asparagus, etc.. and a mustard vinaigrette made with extra-virgin olive oil. Some cheese, and you're done!
How about some souped-up guacamole? Mash some avocado together with diced tomato, olive oil, lime juice and cilantro to make the perfect snack.
Fruit skewers drizzled with extra-virgin olive oil. Guests coming over? Expect a lot of compliments when you serve these.