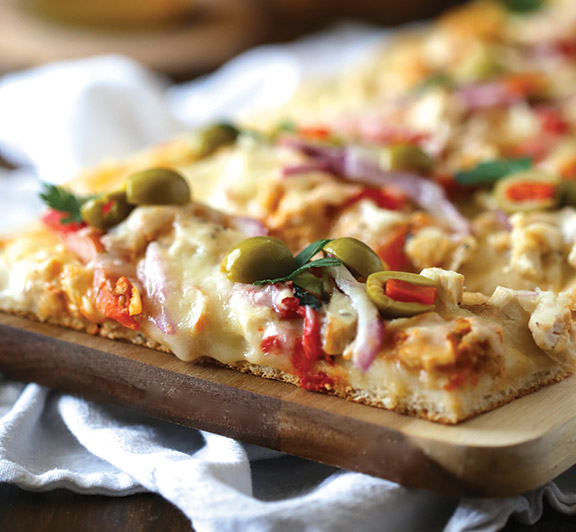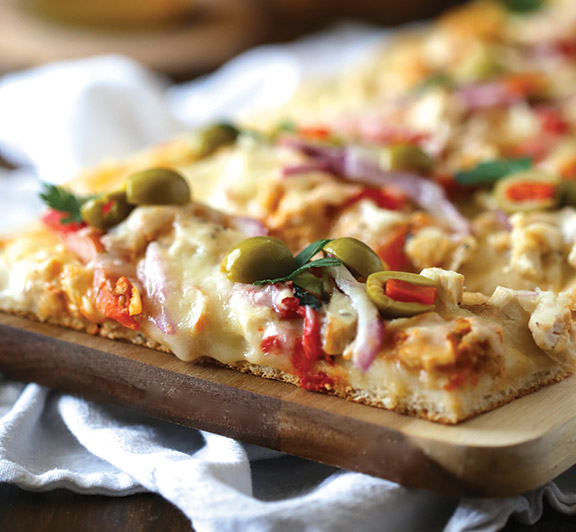 Ingredients
For the Pizza

1 pizza dough (store bought or homemade)
2 cups chicken breast, cooked, diced
1/2 cup roasted red peppers
1/2 red onion, sliced
1 1/2 cups mozzarella, shredded
1 cup STAR Pimiento Stuffed Manzanilla Olives, cut in half
Cilantro, garnish

For the White Pizza Sauce

4 Tbsp. unsalted butter
3 Tbsp. all-purpose flour
3/4 cup whole milk
Pinch of nutmeg

For the Tunisian Sauce

2 Tbsp. sherry vinegar
1/4 cup STAR Original Olive Oil
1/2 cup roasted red peppers
Salt and pepper to taste
Instructions
For the Pizza
Preheat oven to 400 degrees. Spread pizza dough on a baking sheet into a large 9 x 13 rectangle. Pour white sauce on pizza leaving a one-inch border for the crust. Top with chicken, peppers, onions, Tunisian sauce, and mozzarella. Bake for at least 20 minutes in the oven or until golden brown. Remove from oven. Top with olives and garnish with cilantro.
For the White Pizza Sauce
In a medium saucepan preheated to medium heat, melt three Tbsp. of butter. Add the flour and whisk until the flour is cooked out and you have roux. Gradually add the milk and a pinch of nutmeg. Whisk until the sauce has thickened about five minutes. Stir in a little salt & pepper too.
For the Tunisian Sauce
In a small food processor, combine all ingredients and pulse until sauce resembles almost a pesto consistency.