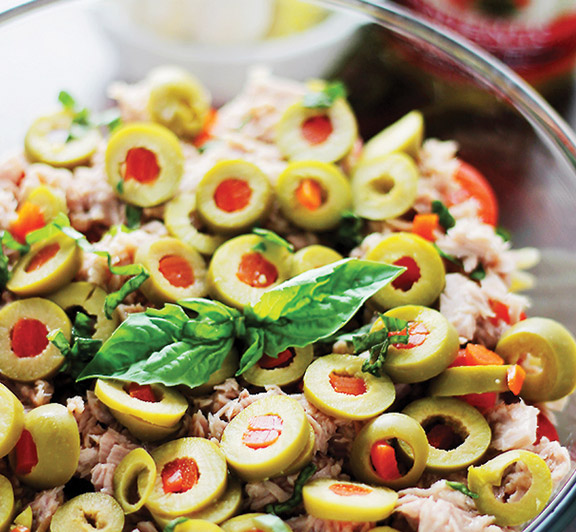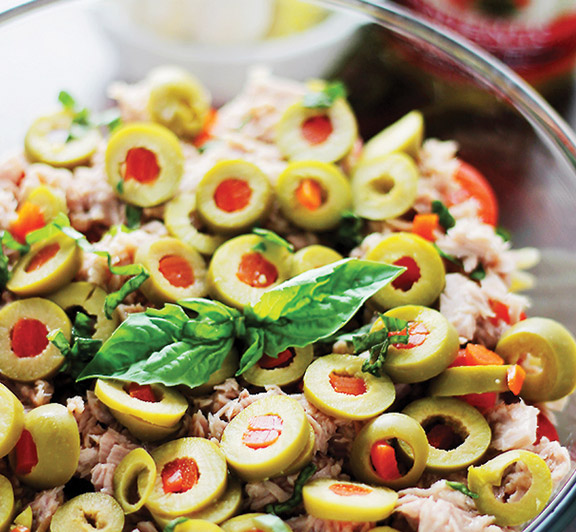 Ingredients
For The Tuna Pasta Salad

8 oz. whole grain rigatoni
2 cups cherry tomatoes, halved
2 cans chunk light tuna in water
½-cup sliced STAR Pimiento Stuffed Queen Olives
Chopped fresh basil, for garnish

Lemon Garlic Vinaigrette

1 garlic clove, minced
Zest of 1 lemon
¼ cup fresh lemon juice
2 Tbsp. water
Salt and fresh ground pepper, to taste
Instructions
Prepare pasta according to the directions on the package; drain and rinse with cold water. Set aside and let cool; about 5 minutes.
Transfer pasta to a deep salad bowl and add halved tomatoes over pasta. Layer tuna over tomatoes. Add sliced olives over tuna and set aside.
In a mixing bowl, whisk together minced garlic, lemon zest, pinch of salt, lemon juice, olive oil, water, salt and pepper; whisk until thoroughly combined.
Add salad dressing to pasta; toss to combine.
Related Recipes
Time: 15 minutes

Serves: 6-8