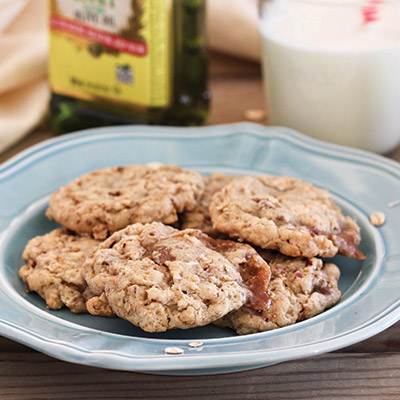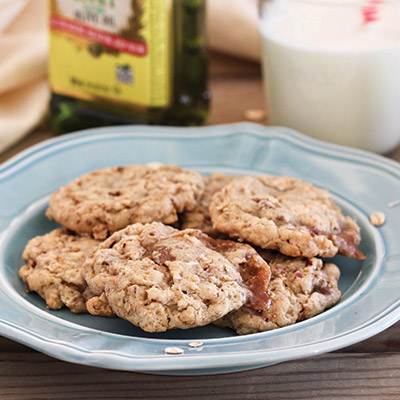 Ingredients
1 1/2 cups bread flour
1 1/2 cups old fashioned oats
3/4 tsp. sea salt
1 tsp. baking soda
1/2 cup + 1 Tbsp. STAR Extra Light Olive Oil
3/4 cup light brown sugar, packed
1/4 cup granulated sugar
2 eggs
2 tsp. pure vanilla extract
1 cup English toffee, broken into small pieces
Instructions
Preheat oven to 350 degrees. Line a cookie sheet with parchment paper or a silicone liner.
In a medium bowl, combine the flour, oats, salt, and baking soda.
In the bowl of a stand mixer, combine the olive oil, brown sugar and granulated sugar and mix together until combined. Add the eggs, one at a time, mixing until incorporated. Add the vanilla and mix well. Slowly add the dry ingredients to the wet ingredients mixing just until no white streaks remain. Gently add in the toffee on low speed and mix until distributed evenly.
Scoop the dough onto the prepared cookie sheets using a small cookie scoop. Bake for 8-10 minutes, or just until the edges begin to brown. Cool for about 5 minutes on the cookie sheet and then transfer to a wire rack to continue cooling.