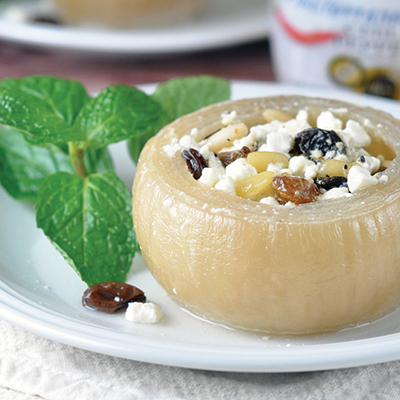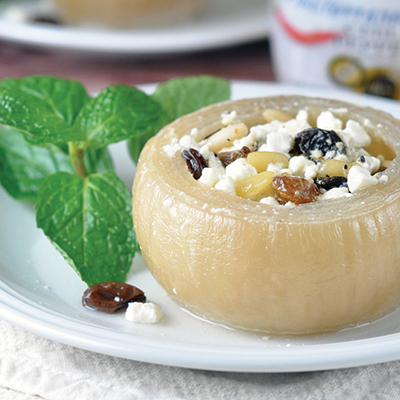 Ingredients
4 Vidalia or yellow onions, peeled
1/2 cup goat cheese
1/2 cup feta cheese
2 Tbsp. STAR Original Olive Oil (mix to taste with red pepper flakes and cayenne pepper)
1 heaping tablespoon raisins
2 Tbsp. pine nuts
Freshly ground black pepper
Mint leaves for garnish
Instructions
Slice about 1/3 off the top of each onion, then remove a small slice from the bottom so it will sit flat. Using a melon baller, carefully scrape out as much of the onion's core without ruining the onion. Place the onions in a slow cooker, pour in 1 cup of water, cover, and cook on low for 3 hours.
In the meantime, in a medium bowl, combine the cheeses, oil, raisins, pine nuts, and black pepper; mix together with a fork; set aside.
After 3 hours, remove the cover of the slow cooker and fill each onion with 2-3 Tbsp. of the cheese mixture. Place the cover back on and continue cooking for 1 more hour, or until the cheese are melted and the onions are very tender. Spoon some liquid from the bottom of the slow cooker over the onions.
Garnish with a mint leaf, if desired. Serve right away.
Recipe developed by: http://www.bellyfull.net
Prep Time: 15 mins
Cook Time: 4 hours
Total Time: 4 hours 15 mins
Serves: 4