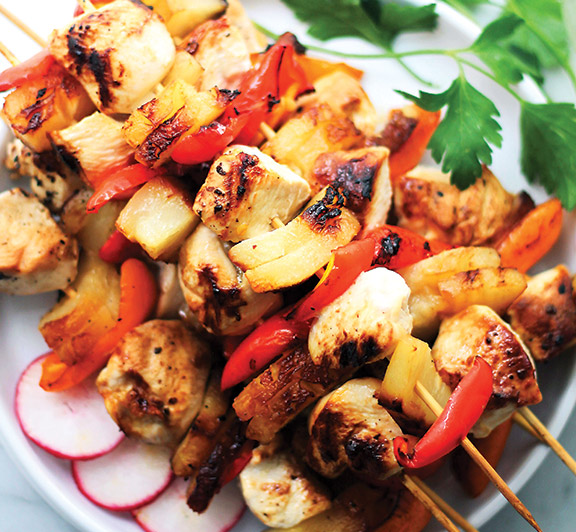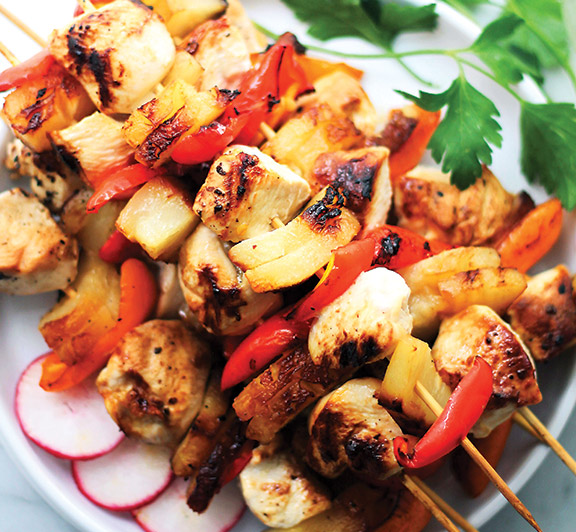 Ingredients
For The Skewers

4 (1-pound) skinless, boneless chicken breasts, cut into cubes
18 to 24 thick pineapple chunks
1 to 2 red or orange bell peppers, cut into 1-inch pieces

For The Marinade

3 Tbsp. STAR Natural Rice Vinegar
1 Tbsp. STAR Extra Virgin Olive Oil
1 Tbsp. low sodium soy sauce
1 tsp. sesame oil
2 Tbsp. water
Instructions
Preheat outdoor gas grill.
Alternately thread cubed chicken pieces, pineapple, and peppers on eight 6-inch skewers; set aside.
In a small bowl combine vinegar, extra virgin olive oil, soy sauce, sesame oil and water; whisk until thoroughly combined. Remove ¼ cup of the sesame-soy marinade and set the rest aside. Brush the ¼-cup marinade over kabobs.
Reduce the heat on the gas grill to a medium and place kabobs on grill rack, directly over h
Cover and grill for 12 to 14 minutes, or until chicken is tender and cooked through, turning once halfway through grilling. Remove kabobs from grill and transfer to a serving plate.
Shake the reserved dressing and drizzle over kabobs or serve on the side.
Recipe developed by: http://diethood.com
Prep Time: 20 mins
Cook Time: 15 mins
Total Time: 35 mins
Serves: 1