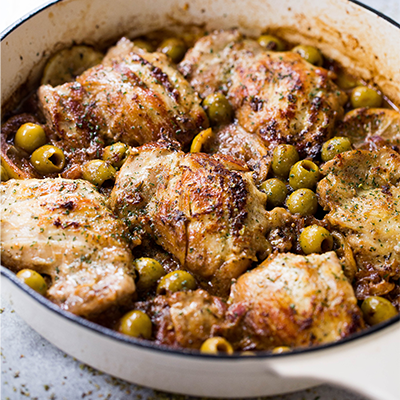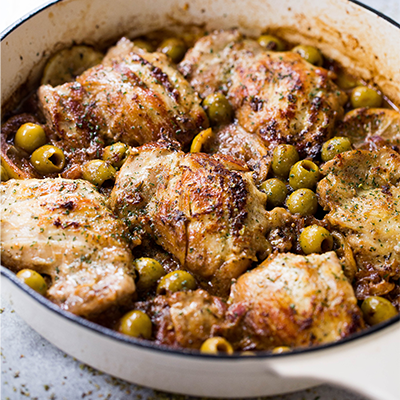 Ingredients
1 Tbsp. garlic paste OR minced garlic
1/2 tsp. dried oregano
1/2 tsp. Italian seasoning
Salt and fresh ground pepper, to taste
6 pieces skinless boneless chicken thighs
2 Tbsp. STAR Original Olive Oil
1 small red onion, finely diced
2 cloves garlic, minced
Salt and fresh ground pepper, to taste
1 small lemon, thinly sliced
1/4 cup red wine (use your favorite)
1 cup low sodium, fat free chicken broth
Instructions
Combine garlic paste, oregano, Italian seasoning, salt and ground pepper in a large bowl; mix until thoroughly incorporated. Add the chicken thighs and rub the seasoning into the chicken until evenly coated; set aside.*
Heat olive oil in a large nonstick skillet or pan over medium-heat.
Remove previously prepared chicken thighs from the bowl and add them to the hot oil. Cook chicken for 6 to 8 minutes, or until chicken begins to brown; turn them over and continue to cook for about 5 more minutes, or until browned. Remove chicken thighs from skillet and set aside.
Add the onions and garlic to the pan; season with salt and cook for about 3 minutes, or until onions are soft. Stir frequently.
Lower heat to a medium and add the lemon slices and wine, stirring to loosen any browned bits stuck to the bottom; cook for 3 minutes.
Add the chicken broth, return the thighs to the skillet, and bring to a boil; lower heat to a simmer and continue to cook for 5 minutes. Add the olives and continue simmering for 10 minutes.
Remove from heat and let stand 5 to 7 minutes, or until most of the liquid is absorbed, but not all of it.
Serve chicken and ladle olives and liquid over the chicken thighs.
Notes:
*You can prepare the chicken up to 24 hours ahead. Just cover and refrigerate.
**This recipe is great served over brown rice or green salad!