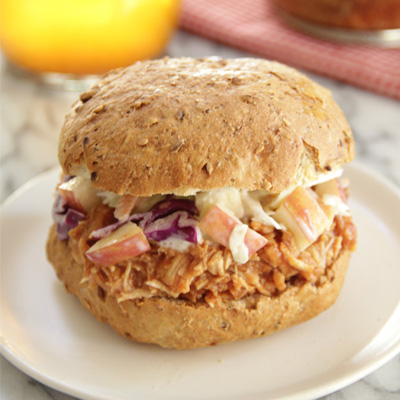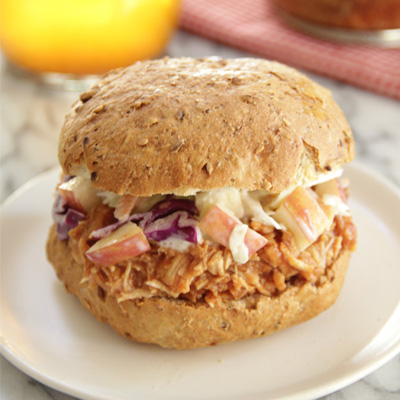 Ingredients
For the Pulled Chicken:
1 pound boneless chicken breasts, cut in half lengthwise
1 cup ketchup
4 tablespoons brown sugar
1 tablespoon Worcestershire sauce (or soy sauce)
Hamburger buns


For the Apple Slaw:
2 tablespoons STAR Unfiltered Organic Apple Cider Vinegar
4 tablespoons plain Greek yogurt (or mayo)
2 teaspoons honey
Salt to taste
3 cups coleslaw mix
1 apple, cored and chopped
Instructions
Add the sliced chicken breasts to a slow cooker.
In a bowl, whisk together the ketchup, apple cider vinegar, brown sugar, and Worcestershire sauce. Pour the mixture over the chicken.
Cover and cook on low for 4 hours or high for 2 hours.
Once the chicken is done, remove and shred with a fork. Return chicken to the slow cooker for 5-10 minutes.
Just before the chicken is finished, prepare the apple slaw. Stir together the vinegar, Greek yogurt, and the honey in a small bowl. Season with salt to taste. Combine the coleslaw mix and the apple in a bowl and pour the dressing over and mix well. Serve on top of the pulled chicken sandwiches.