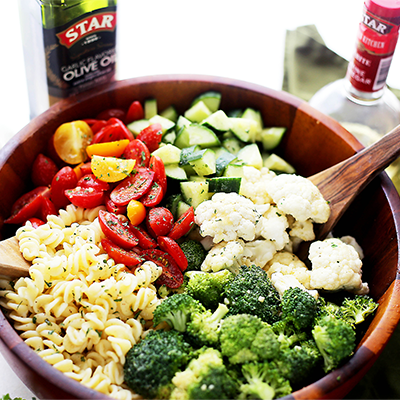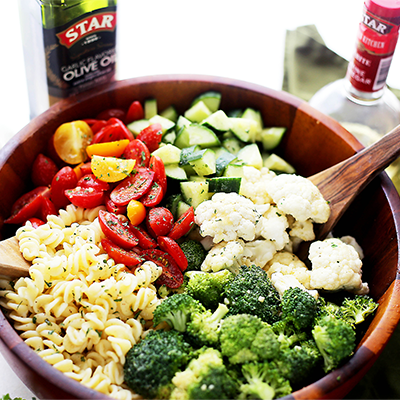 Ingredients
For the Salad
10 oz. dry fusilli pasta
1 English cucumber, diced
1 pint grape tomatoes, halved
2 to 3 cups fresh broccoli florets
2 to 3 cups fresh cauliflower florets
For the Dijon Vinaigrette
2 Tbsp. fresh lemon juice
2 tsp. Dijon mustard
1 tsp. Worcestershire sauce
3 Tbsp. STAR White Wine Vinegar
2 Tbsp. chopped fresh parsley
Instructions
Cook pasta according to the directions on the package; rinse under cold water until cool and pat dry with paper towels. Transfer pasta to a salad bowl; add diced cucumbers, tomatoes, broccoli and cauliflower. Set aside.
Prepare the salad dressing by combining all the ingredients in a mixing bowl; whisk until thoroughly combined. Taste for seasonings and adjust accordingly.
Add salad dressing – as much as you think you will need – to the previously prepared salad. Toss to coat.
Chill before serving. Enjoy!