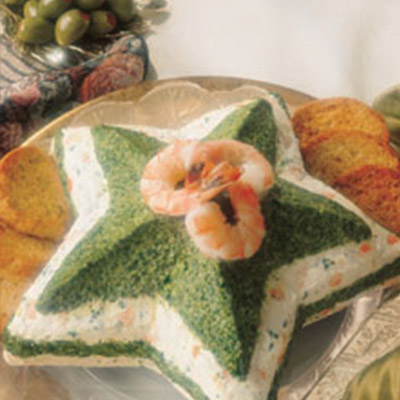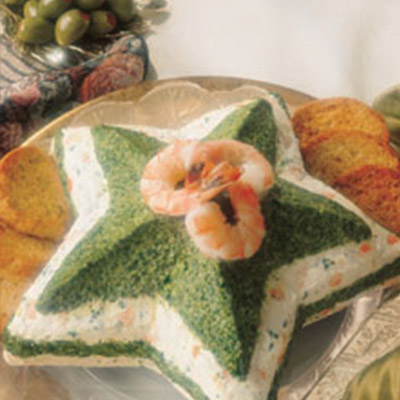 Ingredients
OLIVE AND CAPER PESTO

2 cups cilantro, packed
2 cups parsley, packed
1 cup STAR Pimiento Stuffed Manzanilla Olives, drained
1/4 cup STAR capers, drained and rinsed
1/2 cup pine nuts
2 to 3 large cloves garlic
1/2 cup Parmesan cheese, shredded
1/4 cup STAR Original Olive Oil
1/2 tsp. fresh ground pepper

PESTO SEAFOOD MOLD

16 oz. cooked, shell-on shrimp
16 oz. cream cheese, room temperature
1/4 cup cilantro, finely minced
1/2 tsp. lemon zest, finely grated
Hot pepper sauce (optional, to taste)
1 ¼ cup Olive and Caper Pesto
Instructions
In a food processor or blender, blend cilantro and parsley a few seconds on medium speed. Add olives, and capers; blend 5 seconds. Add pine nuts, garlic, and cheese; blend 5 more seconds; add olive oil and pepper; process until all ingredients are blended. Mixture will appear dry. Do not add additional oil. Makes 1-¼ cups.
Reserve 3 or 4 whole shrimp with tails for garnish. Shell, devein and chop remaining shrimp.
Combine softened cream cheese, cilantro and lemon zest; blend thoroughly. Mix in chopped shrimp and hot pepper sauce if desired.
Line 4-cup shallow mold with plastic wrap. Spread ½ cup pesto mixture to cover the bottom of mold. Spread ½ shrimp and cream cheese mixture over pesto. Repeat layers.
Cover and refrigerate at least 8 hours. To unmold, invert mold onto dish and carefully remove plastic wrap lining.
Garnish top with whole shrimp. Serve with baguettes or crackers.
Serves: Makes enough for 4-cup mold.