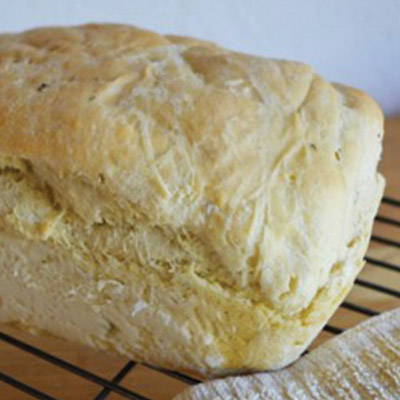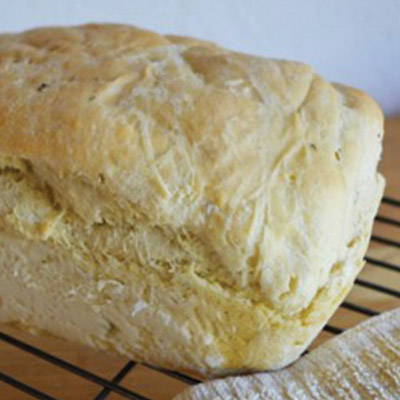 Ingredients
3 cups flour
2 Tbsp. honey
1 tsp. salt
1 package active dry yeast
1¼ cups very warm water
1 Tbsp. chopped fresh chives, or 1 tsp. dried chives
1 tsp. fresh or ½ tsp. dried rosemary
½ tsp. fresh or ¼ tsp.dried thyme
2 Tbsp. STAR Extra Light Olive Oil
Instructions
Add two cups of flour and salt into a glass mixing bowl. Create a well in the center and add your yeast. Add your warm water and honey. Using a wooden spoon mix to combine.
Add the olive oil and stir again. You will notice it becomes more elastic and very shiny. Add in the herbs and stir until they are combined.
Add in the remaining flour and stir until it is combined. Form it into a ball. Gently rub it down with a small coating of olive oil.
Cover it tightly and place a thin towel over the top. Place it in a warm, draft-free area. For about 30 minutes or until it rises to about twice its size.
Using a wooden spoon, stir dough until you have a smoother texture, about 20-25 strokes.
Using olive oil, lightly coat your bread pan and place your dough into it. Pat it down to form a uniform loaf. Cover tightly again and allow to rise a second time, until it reaches almost the top of the loaf. This will take about 30-40 minutes.
Bake at 375 for about 40-45 minutes until the top is lightly browned and sounds hollow if you thump it. Remove it from your pan after five minutes and allow it to cool on a cool rack. Once it cools, wrap tightly to store.
Related Recipes
Time: 1hr 30 mins

Serves: 8

Time: 1 hr 20 mins

Serves: 10