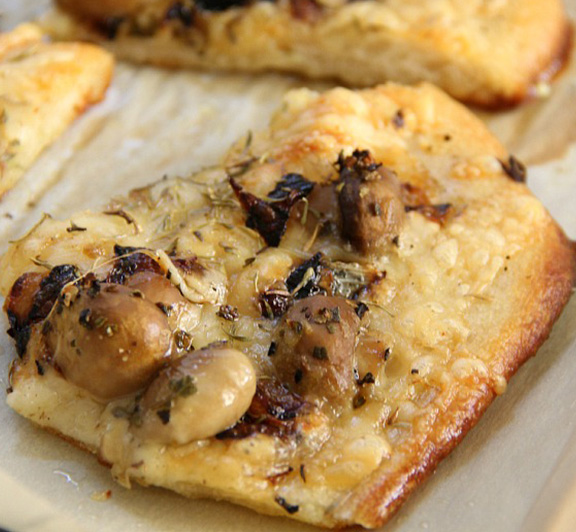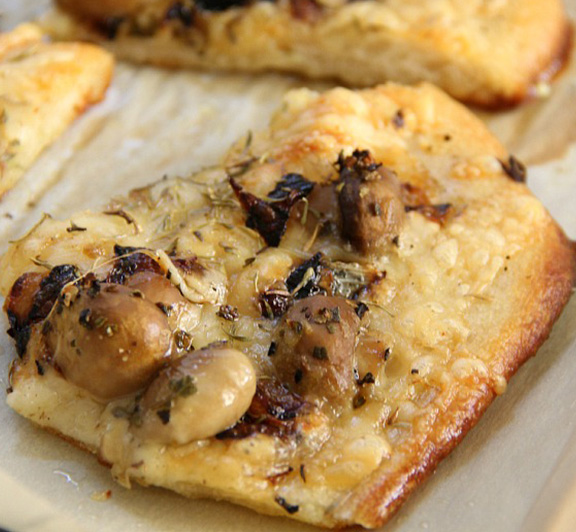 Ingredients
1/2 small yellow onion, diced
1 Tbsp. plus 3 tsp. STAR Extra Virgin Olive Oil
1/2 pound fresh pizza dough
2 cloves garlic, minced
Salt and pepper
1 cup fresh grated Gruyère cheese
1 2.6 ounce jar Cara Mia Marinated Mushrooms, sliced
Fresh or dried rosemary or thyme (for garnish; optional)
Instructions
Preheat oven to 425 degrees F. Line a baking sheet with parchment paper and set aside.
Heat 3 tsp. of the olive oil in a skillet over medium heat. Add the onions, stir to coat in the oil, and cook until the onions start to brown. Add a splash of water to the pan if the onions are sticking to deglaze the pan. Continue cooking until caramelized, about 5 minutes. Remove from the heat and set aside.
Sprinkle some flour on the counter or flat surface. Roll the pizza dough out with a rolling pin until it is about 1/3-inch thick. Transfer the dough to the baking sheet. Brush the remaining 1 Tbsp. of olive oil over the dough along with the minced garlic and a sprinkle of salt and pepper. Spread the Gruyère cheese evenly over the top of the dough then sprinkle on the sliced mushrooms and caramelized onions.
Place the baking sheet on the bottom rack of the oven. Bake for approximately 10-15 minutes or until the dough is golden.
Related Recipes
Time: 25 mins

Serves: 8-10 skewers