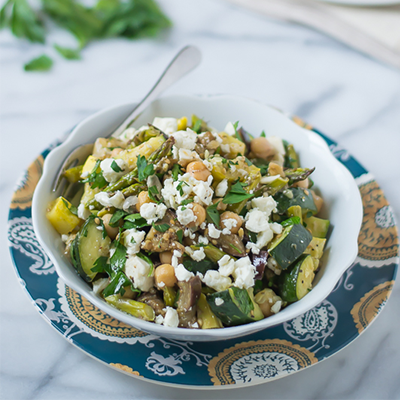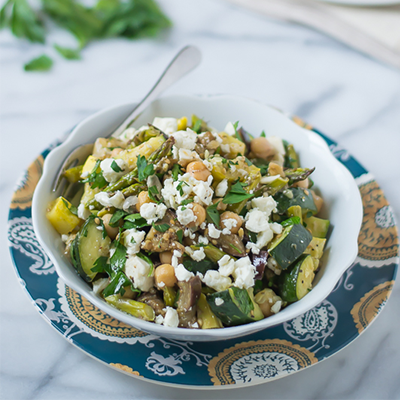 Ingredients
1 medium eggplant
1 medium zucchini
1 medium yellow squash
1/2 pound asparagus
1/2 cup STAR Extra Virgin Olive Oil, divided
1 1/2 tsp. kosher salt, divided
1 tsp. freshly ground black pepper, divided
1/4 cup plus 2 Tbsp. red wine vinegar
1 1/2 tsp. minced garlic (about 3 cloves)
1 tsp. dried oregano
1/2 tsp. Dijon mustard
1 (16 ounce) can chickpeas, rinsed and drained
3.5 ounces crumbled feta cheese (about 3/4 cup)
1/3 cup chopped fresh parsley leaves
Whole wheat pita bread, prepared quinoa, or prepared couscous for serving
Instructions
Place rack in upper and lower thirds of the oven and preheat oven to 400 degrees F. Cut the eggplant, zucchini, and into 1/2-inch thick cubes. Remove tough ends from the asparagus and slice into 1/2-inch pieces.
Spread the sliced vegetables onto two baking sheets in a single layer. Drizzle with 1/4 cup olive oil, then season with 1/2 tsp. salt and 1/2 tsp. black pepper.
Place in oven and roast until crisp-tender, 15 to 20 minutes, rotating the pans' position once halfway though. Remove from oven and set aside.
Meanwhile, in a small bowl or large measuring cup whisk together the remaining 1/4 cup olive oil, remaining 1 tsp. salt, remaining 1/2 tsp. black pepper, red wine vinegar, garlic, oregano, and Dijon. While the vegetables are still warm, transfer them to a large serving bowl and add the chickpeas.
Pour the dressing over the top and toss gently to coat. Gently stir in the feta and parsley. Serve with pita, quinoa, or couscous.