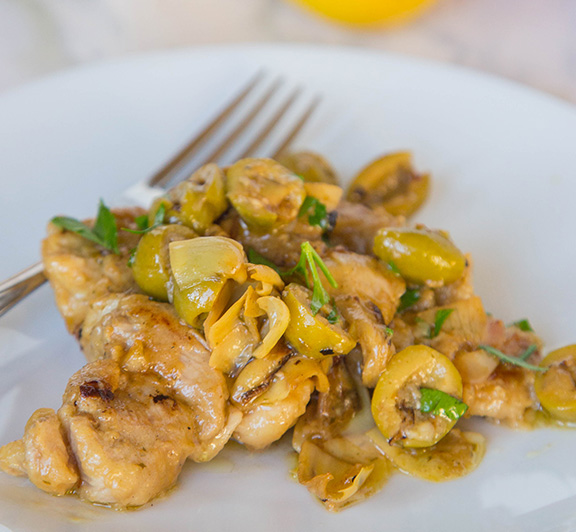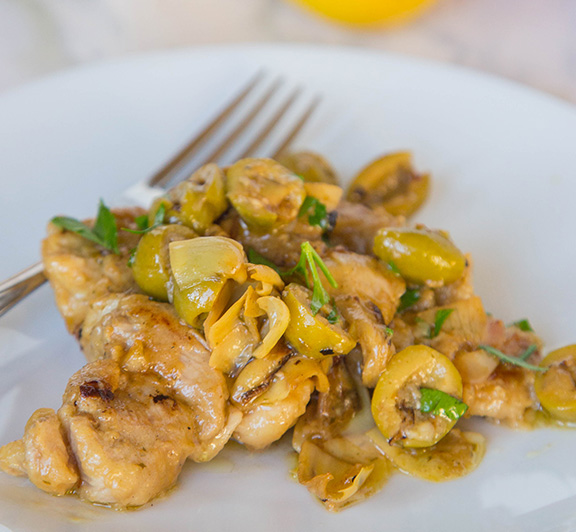 Ingredients
1 pound boneless skinless chicken thighs
1/4 cup flour
3 Tbls STAR Extra Virgin Olive Oil, divided
1 cup onion, finely chopped
3 cloves garlic
1 (14.75 oz) jar Cara Mia Artichoke Hearts in Water , drained and chopped
1 (7 oz) jar STAR Lemon Stuffed Green Olives, drained and roughly chopped
1 1/2 cup chicken stock
2 Tbls butter
1 lemon, juiced
Instructions
Heat a large skillet over medium high heat. Add 2 Tbls olive oil, swirl to coat.
Dust chicken lightly with flour. Add to skillet, cooking for 3 minutes on each side, or until browned.
Add remaining 1 Tbls olive oil to the pan. Stir in onions, and cook until soft. Add garlic, artichoke hearts, and olives. Cook for 2-3 minutes until garlic is fragrant.
Add chicken and any juices back to the pan. Add chicken stock.
Bring to a simmer and cook for 5-10 minutes, until chicken is cooked through and the chicken stock as reduced and slightly thickened. Stir in butter until melted. Squeeze lemon over chicken to serve.