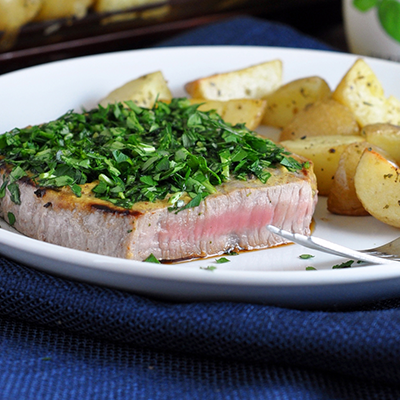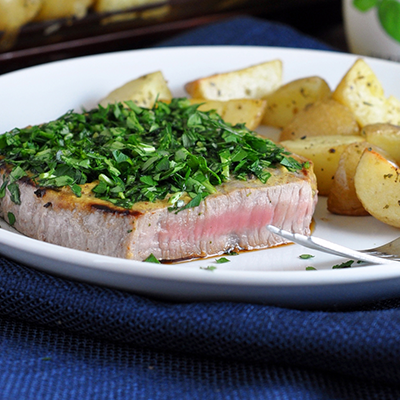 Ingredients
1 1/4 pounds small yellow potatoes, scrubbed and cut into 1-inch pieces
3 Tbsp. STAR Olive Oil Infused with Fresh Basil, divided
3 garlic cloves, minced
1 tsp. Italian seasoning
Salt and pepper
4 (6 ounce) boneless beef top sirloin
3 tsp mustard
1/2 cup mixed finely chopped parsley and tarragon
Instructions
Preheat oven to 425 degrees. Lightly coat a 9×13 baking dish with nonstick spray. Toss the potatoes with 2 Tbsp. of olive oil, garlic, Italian seasoning, and some salt and pepper. Bake for 25-30 minutes until tender, mixing once to prevent sticking.
Pat steaks dry with paper towels, season with salt and pepper, and coat with the remaining with 1 Tbsp. of oil.
Heat a large nonstick pan over medium-high. Cook steaks until well browned and have an internal temperature of 125 degrees (for medium-rare), about 3 minutes per side, depending on the thickness of your steaks. Brush tops of steaks evenly with the mustard and sprinkle with the herbs.
Serve alongside the potatoes.
Recipe developed by: http://bellyfull.net
Prep Time: 15 mins
Cook Time: 25 mins
Total Time: 40 mins
Serves: 4