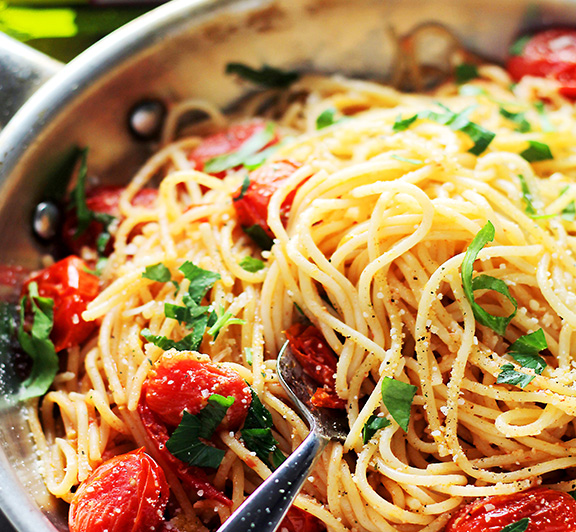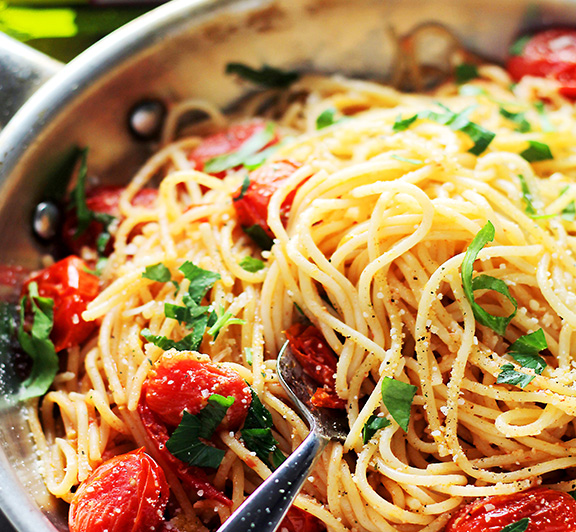 Ingredients
For The Pasta

10 to 12 oz. dry spaghetti
Water
½ Tbsp. STAR Roasted Garlic Oil
½ Tbsp. salt

For The Tomatoes

2 Tbsp.STAR Roasted Garlic Oil
1 shallot, finely sliced
1 pint cherry tomatoes
Salt and fresh ground pepper, to taste
¼ cup grated parmesan cheese
1 Tbsp. chopped fresh basil
½ Tbsp. chopped flat leaf parsley
Instructions
Fill a large pot with water. Then add garlic oil and salt; bring to a boil and add spaghetti to the pot and cook according to the directions on the box.
Add oil to a nonstick skillet; heat over medium-high heat and add the shallots and sauté for 1 minute. Next, add the cherry tomatoes, season with salt and pepper, and let sit for 2 minutes, or until they start to blister. Stir and continue to cook 2 more minutes.
Drain pasta and add to skillet. Add parmesan cheese and cook and stir until thoroughly combined and heated through. Stir in fresh basil and parsley. Remove from heat.
Recipe developed by: http://diethood.com
Prep Time: 5 mins
Cook Time: 15 mins
Total Time: 20 mins
Serves: 5-6