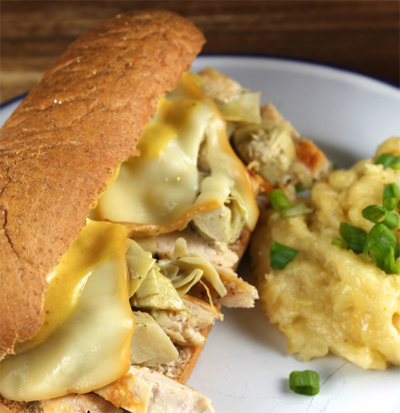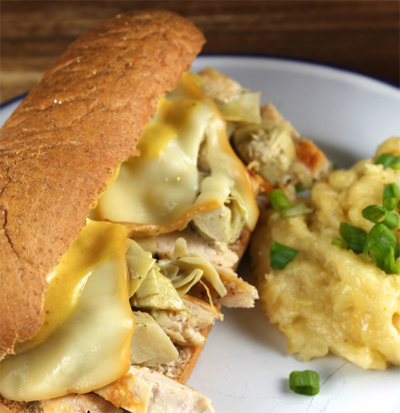 Ingredients
3 boneless, skinless chicken breasts
1 tsp. kosher salt
1/2 tsp. black pepper
1 jar of Cara Mia Marinated Artichoke Hearts (15.75 oz.)
6 slices smoked cheese (I used Swiss)
6 whole wheat hoagie buns
1/2 cup mayonnaise
1/2 cup sweet mustard
Instructions
Preheat indoor grill or grill pan.
Pound chicken breasts flat, to an even thickness. Brush both sides with STAR Infused Olive Oil with Roasted Garlic and sprinkle with salt and pepper.
Grill chicken breasts about 5 minutes on each side or until cooked through. Remove from a grill. Slice into 1/2 inch slices.
Drain and coarsely chop artichoke hearts. Soon after, cut hoagie rolls in half and lightly toast. Set hoagie bun tops aside.
Layer chicken, artichokes and then cheese slices over hoagie bun bottoms. Place under the broiler just until cheese is melted.
Mix mayonnaise and sweet mustard together and spread on tops of hoagie rolls. Place over sandwiches and serve immediately.
Related Recipes
Time: 25 minutes

Serves: 6