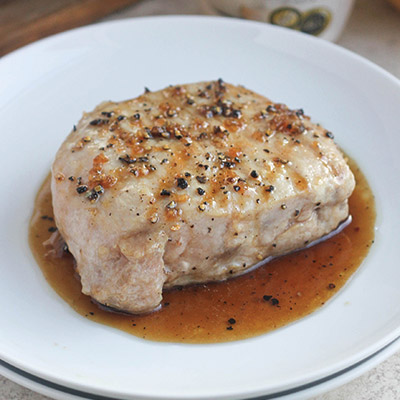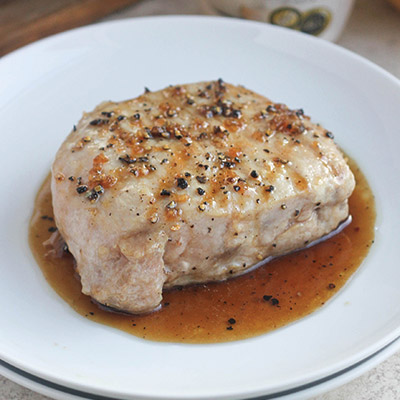 Ingredients
Pork Chops

1 lb. boneless center-cut pork chops
2 Tbsp. STAR Roasted Garlic Olive Oil
1/4 tsp. salt
1/4 tsp. pepper
3/4 cup beef broth

Bourbon Glaze

1/2 cup bourbon
1/3 cup light brown sugar
2 tsp. soy sauce
2 cloves garlic, minced
1/4 tsp. salt
1/4 tsp. black pepper
Instructions
Preheat the oven to 350 degrees. Heat a cast iron skillet, grill pan or oven-proof pan over medium-high heat until very hot. Water should sizzle on the surface when a few drops are added.
Pat-dry both sides of the pork chops. Brush one side with STAR Roasted Garlic Olive Oil and then season with half of the salt and pepper. Place the pork chops in the pan, seasoned side down, and cook for about 4 minutes, until browned. Oil the other side of the chops, season with the remaining salt and pepper, and then flip and brown on the opposite side for another 3-4 minutes. Slowly add the beef broth and place the pan in the oven. Bake the pork chops for about 20 minutes, until cooked through. The center of the pork chops should reach 160 degrees.
While the pork chops bake, combine the bourbon, brown sugar, soy sauce, garlic, salt and pepper in a small sauce pot over medium high heat. Stir occasionally while the mixture comes to a boil. Reduce to a simmer and cook for about 15-20 minutes until the mixture is slightly thickened and reduced by about half.
Serve the pork chops with the glaze.