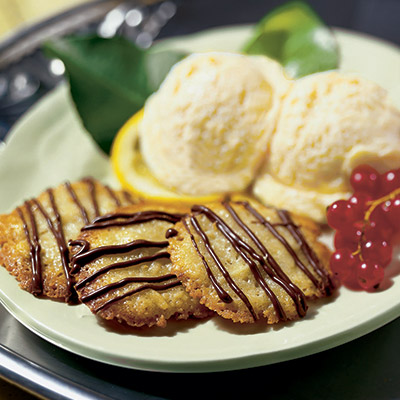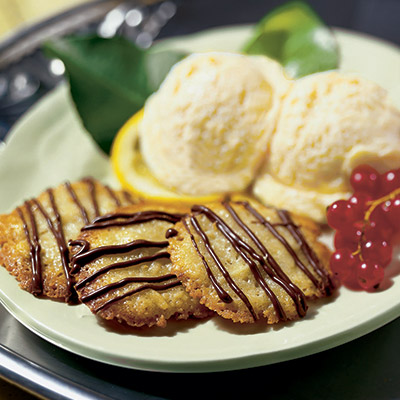 Ingredients
1 cup slivered almonds
3 1/2 Tbsp. STAR Extra Light Olive Oil
1/4 cup heavy cream
1/3 cup sugar
1/4 cup all-purpose flour
6 oz. semi-sweet chocolate pieces
Fresh fruit or sorbet (optional)
Instructions
Preheat oven to 350ºF. Place 1/2 cup of almonds in blender and process until fine.
In small saucepan, bring 3 Tbsp. olive oil, cream and sugar to boil, stirring until sugar dissolves. Remove from heat. Stir in flour and all almonds.
Drop by rounded teaspoonfuls about 2" apart on oiled and floured baking sheet. With back of wet spoon, flatten each mound to 1 1/2" circle. Bake until edges are deep golden, about 10 minutes. Cool slightly then carefully transfer to cooling rack.
On top of a double boiler set a pot of simmering water, place chocolate with remaining tsp. oil. When melted, drizzle over cookies with fork or dip half of each cookie into chocolate. Let stand until chocolate is set, about 2 hours.
Serve with fruit or sorbet, if desired.
Prep Time: 10 mins
Cook Time: 2 hr 20 mins
Total Time: 2 hr 30 mins
Serves: 18